Finally a blog post after so many months of hibernating!! As most of my friends have known, i went back to KL during my winter break in July to go for a family trip to Japan, The Land of the Rising Sun! I remembered being very excited about it because as a family girly girl, I love going on trips with the whole bunch of family as this time, I went with my cousins' family too! The usual ones that has been hanging out since God knows when!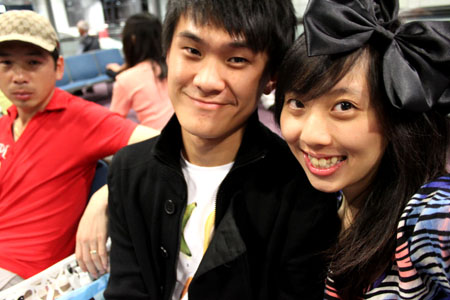 *OH OH OH DID I TELL YOU I WAS BUGGING MY DAD TO GET ME A DSLR BEFORE THE JAPAN TRIP TO TAKE NICE NICE PHOTOS N HE WAS SO NICE TO GET ME ONE JUST THE DAY BEFORE I FLY
I LOVE YOU DADDY! *
Ps: But do bear with me for the first few posts because I was just learning all the manual settings in one night FML so in the end, due to time constraints I was using most of the auto settings but fear not, I've picked up a lot ever since!
So here we were, at KLIA being jakuns taking pictures of ourselves. To be honest, I never like going to the airports because it's a depressing place to be in usually because it will be either I'm leaving my family or I'm sending someone off. But this time(!!!!), I knew that something fun and big was waiting for me. I was being my hyper self full out!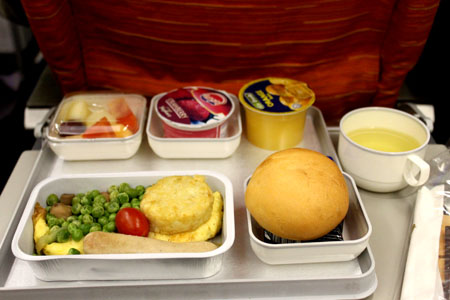 Even the airplane ride of 6 hours was exciting, so much so I ACTUALLY ENJOYED THE FOOD! They served two bunwiches (hahahha wtf sandwiches in buns!) for SNACKS! Other than that, it was my first time being served Nasi Lemak though because every other time, when it was my turn to order the food, Nasi Lemak is out of stock WTF! So there I was, squealing in my seat and I was laughing so loud because I had ikan bilis in a small container.
I know, I'm such a weird child, because my pet fish died, look at his death date.
After a full 6 hours of MelissaGoodness, everyone landed happily at Kansai Airport! I tell you, it was dramatic! Isn't travelling always the best opportunities to dress up? So both my cousin and I ran to the toilet before going through the immigration to change into our best outfits for a day in Universal Studios of Japan, USJ! Hahahah not the Subang USJ AH! At first when they mentioned USJ, i was like FTL WE'RE IN JAPAN PPL! Then in the end, I realised it was I whom didn't understand it!
Another thing that's funny was that after we all had changed, my sister, cousin and I were all WEARING SIMILAR WHITE FRILLY TOPS! Indeed <strong>FASHIONISTAS THINK ALIKE</strong>!
We were a lil bit early to arrive at USJ, so I whipped out Daisy(yes my camera has a name) and started making sweet sweet memories of everyone! That man standing there looks like Lou Foo Chi! I don't know how is the actual spelling like but if you read out like that, you'll know which old chinese comic character that I'm talking about!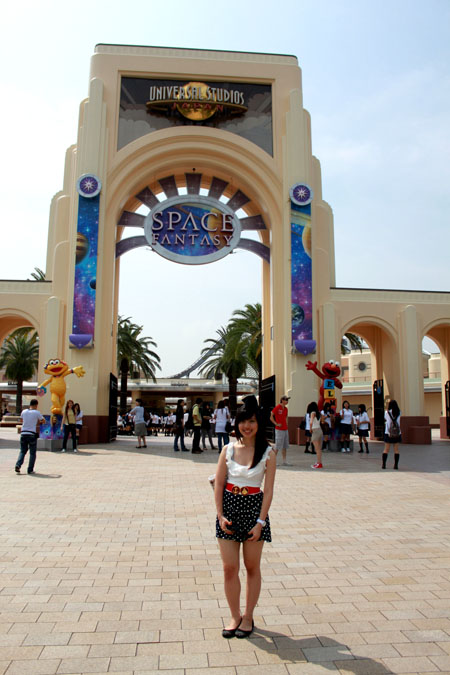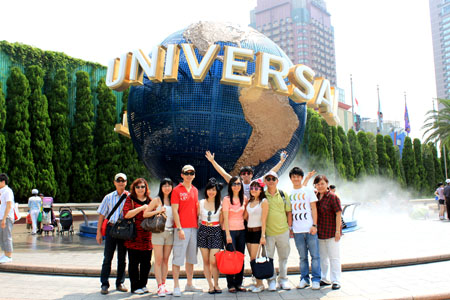 While waiting for our lovely tourguide, Kenro-San to get us some tickets, I was searching high and low for the big steamy ball!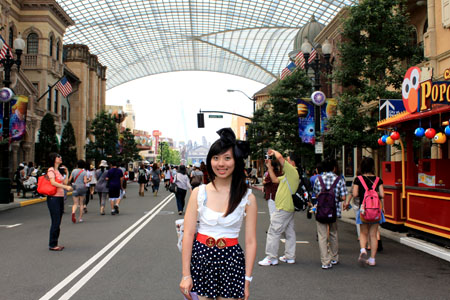 As we entered, we were greeted by this wide road and stores built on the side inspired by all the cartoons and little stalls selling popcorns! I love em' Japanese because their popcorn tubs are just so cute! It's all the heads of our favourite characters! Sadly, I didn't manage to get any in USJ.
<blockquote>Now here's the funniest bit! We went onto our first ride, and initially it was just us youngsters who were going for it because EVERYONE, and i mean A LOT OF PEOPLE, were queuing up for this ride. It's written in Japanese only though so we did not have any slightest bit idea on what is ahead of us. Two of us went in first while waiting for others to help us put our belongings into the lockers provided, AND THEN SUDDENLY(!), THE WHOLE BUNCH OF FAMILY, 9 PERSON, SEMBILAN(!!!) CAME IN HALFWAY OF THE QUEUE HHAHAHHAHAHA OMG WTF! I mean if a person jumped queue in front of you, you'll be a mumbling at the back. So in the end we comforted ourselves that it's once and for all, we won't see this people again, but the Japanese are nice people, nobody said anything so LA DEE DUM
So because it was a one whole 45 minutes long queue, they had this photo booths halfway of the queue and the USJ people are funny I tell you, they talk and walk like how you see the characters move in animes! Thing is, when we finally got to our rides, we thought to ourselves, okay maybe it's just a kiddy ride with a lot of nice things to see while you're sitting in the space car-like thingys for four. I was one of the first four, AND I KID YOU NOT, AFTER 10 SECONDS, IT WENT DOWN SO STEEP I CAN SHIT IN MY PANTS! NOT BECAUSE I WAS SCARED BUT IT'S MY PARENTS AND MY COUSINS' PARENTS BEHIND US. You see, they are not the roller coaster type of people kan you see.
My Godmother was sitting next to me, and I could tell you I was screaming in agony half of the time because of the pain inflicted on my arm and my left arm was bathing in her sweat hahahaha!!
My uncle was the best, because he thought that since it would be a wonderful ride with all beautiful things to see, he was video-ing the whole time…WITH THE CAMERA SWINGING HERE AND THERE HAHAHAHHAHA! I'll update the video once I get my hands on it but it was basically him screaming in a deep man's voice with bits of lights here and there from the pretty ride. I must say it's a pretty and exciting ride though! </blockquote>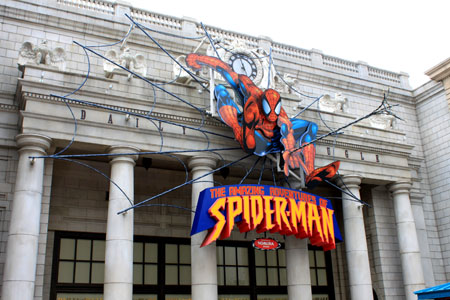 Every time I look at this Spiderman, it reminds of how stupid we are indeed! In most of the rides, there's a long walk before you can reach the ride, and for this freaking Spiderman one, there wasn't anybody in sight and the walk is so long it's like a maze with telephone and things you normally see in the Spiderman comic! Like an office with phones and all as parts of the decoration. WEIRD THING IS, there was nobody in sight and there's a music playing in the background. Suddenly a phone rang! Then I THOUGHT OMG ARE WE IN THE GAME ARLEADY? Because there's like phrases of hints on the wall every now and then, I was so scared that we might not be able to solve it and then we cannot get out! So eveyrbody was like, 'THE PHONE THE PHONE!! PICK UP THE PHONE!!'.
So I was the one to ran to the other end to pick up and in the end, we realised :
1: The phone is stucked, it's just merely a decoration.
2: Everything is in Japanese, how in the world are we going to converse? YAMATE YAMATE?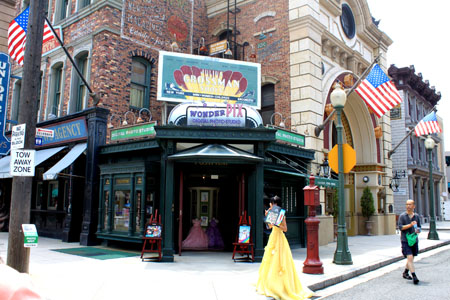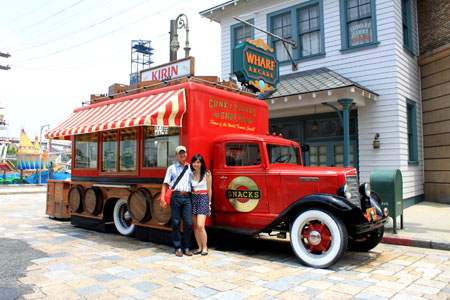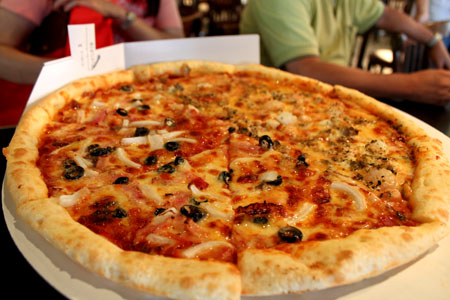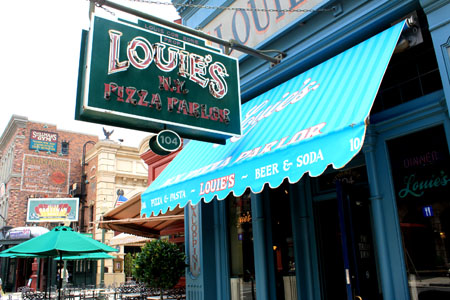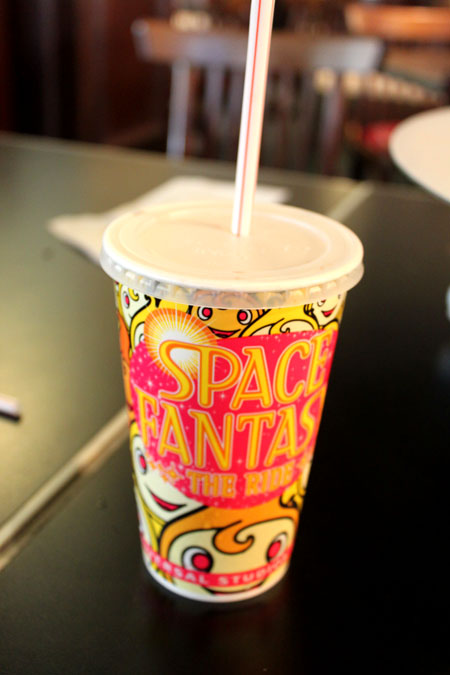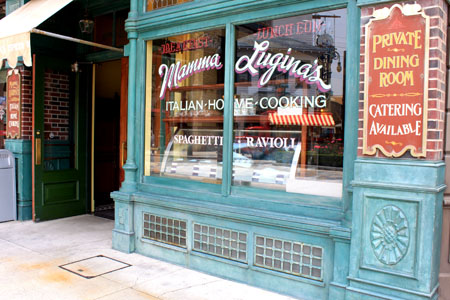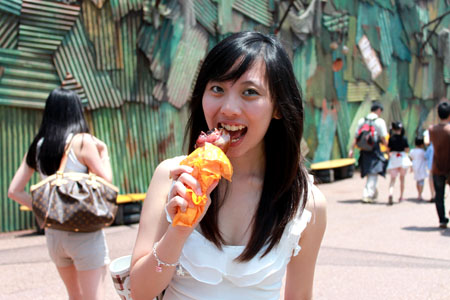 Had cheesy pizzas at Louie's for the whole lot of us, and the ambience in the restaurant reminds me so much of Lady & The Tramp! Look at my whole turkey leg! I TELL YOU, I have the appetite of a monster while I was in Japan!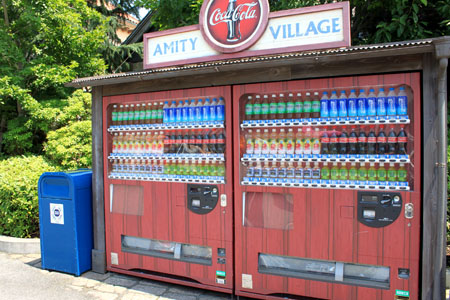 I don't know about you but vending machines in Japan gives me a race in my heartbeat everytime I see them on the street or anywhere!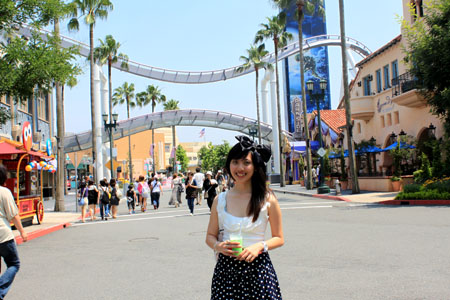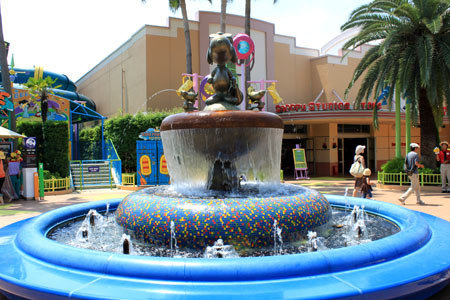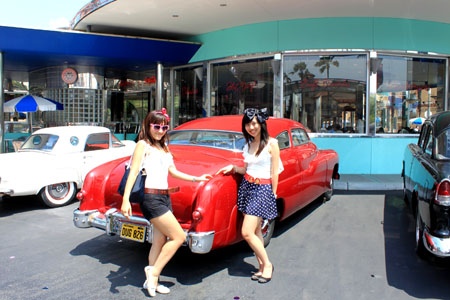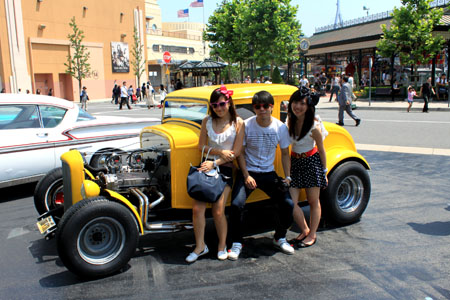 This reminds me so much of Grease for a few reasons. Didn't get to sit on much rides though. Now that I think of it, I remembered that I was doing a speed run towards the most popular ride of all, Hollywood Dream! It's basically a roller coaster ride BUT YOUR FEET WOULD NOT BE ABLE TO TOUCH ANYTHING! And it's freaking steep like WHOA 91DEGREES! The cool thing about this ride is that you could choose the music you want to calm yourself down hahahah wtf! Most of us went for the Eminem – Lose Yourself because personally I think that increases your adrenaline rush even more! They even had Beatles and a Japanese Song composed just for this ride! How cute!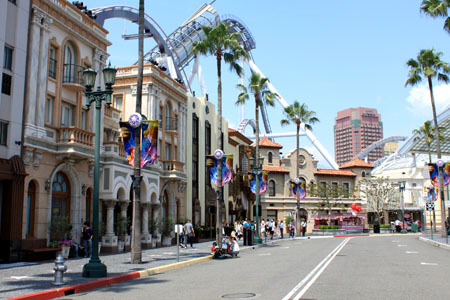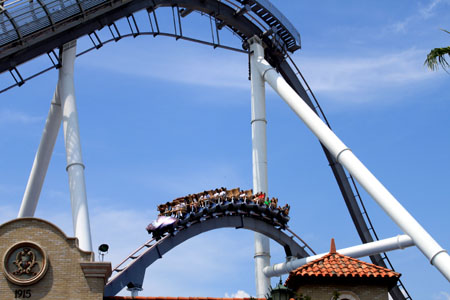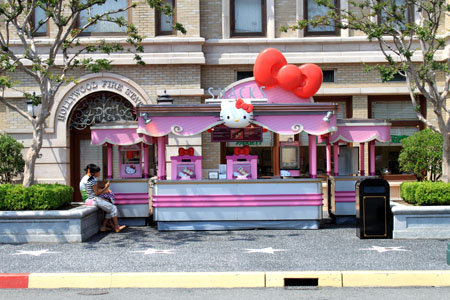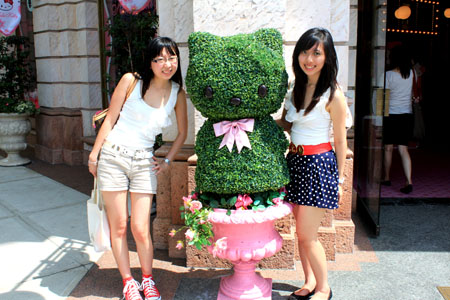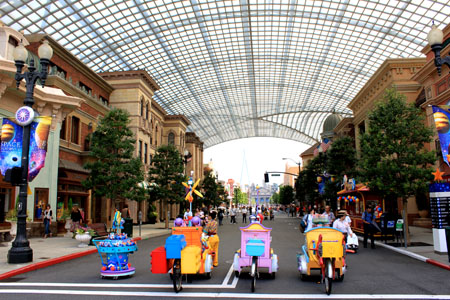 I was on that roller coaster ride!! My dad took it for us muahahahhaaa!!! I was so happy when I spotted that pink kitty stall and that kitty-inspired plant! Couldn't resist having a picture taken with it. I'm so childish ohmygod!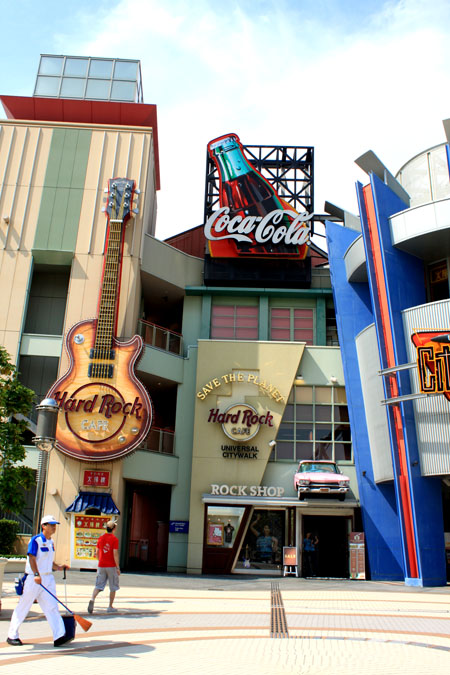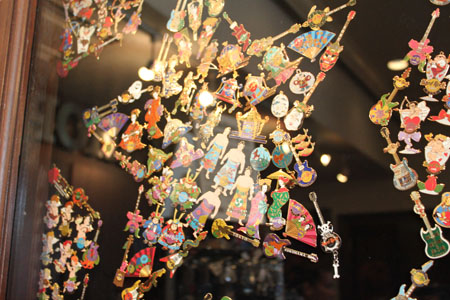 Went to Hard Rock after that and I bought a few tops! FREAKING CHEAP BUY BUY BUY!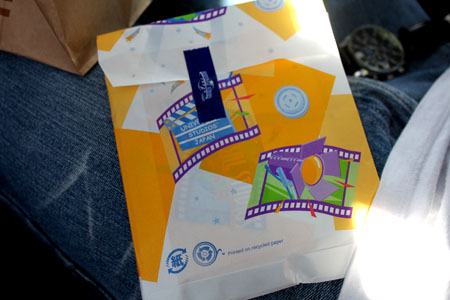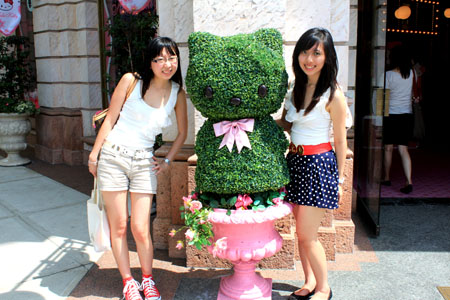 After a whole day filled of fun and laughter, I went back into the bus and my daddy surprised me with this little present! I WAS SO TOUCHED BECAUSE MY DAD HARDLY BOUGHT ME ANYTHING WITHOUT ME PESTERING HIM!
I know this is a long post but this is just part of my first day! There's more to come so look out for this page!