After a whole noon of fun spent at Universal Studios, it was time for us to head to our hotels to check in. There goes our first stay of our entire trip in Osaka. On the way to the hotel, there was a whole street filled with all the luxuray brands for the tais tais with the likes of Miu Miu, Gucci, etc and just right behind is MY SHOPPING HEAVEN for the ones whose young at heart! I'll get to that later.
I just love the streets in Japan as they are always kept clean and there's not a SPECK OF RUBBISH IN SIGHT! The population in Japan is higher yet the level of cleanliness is way better, that's saying something isn't it!? I've heard others saying 'Japan is so clean, it makes Malaysia/Perth looks like a rubbish dump' hahahahha!
Anyways, we checked into a tiny hotel called 'Cross Hotel' right smack in the middle of the street. It was kind of troublesome getting to the entrance of the hotel as the bus stopped us in the middle of the street and we've got to DRAG OUR LUGGAGES
crossing another street meant for cyclists! Horror!!!!!! To make things worse, it was raining that time FOL!
As we were being handed out keys to our respective rooms, Kenro-san (our tourguide) told us that he would be listening to our moans in the hallway when we are having fun with the toilet bowl! OHMYGODD HE WAS RIGHT!! I was playing with my front/back/lubangs? the MOST AWESOME TOILET BOWL CONTROLS EVER!!
There's FREAKING TWELVE OPTIONS FOR YOU TO FIDDLE WITH! And I've learnt a new word from that, BIDET HAHAHAHAHHA! Wait a second, bidet means butt i think wtf. Among the buttons are the control of the water pressure to wash all your holes, adjusting the position the water secretion back and forth according to what you're born with HAHAHAHAHA!, AND BEST OF ALL, there's a air suction button for when after you've shitted, the person whose going to use the toilet next would not die inside. Plus, there's a seat warmer too! The thing is, these toilet seats has been here in Japan for a whole 3 decades already and it's only been introduced to Malaysia like just a few years ago?
You gotta love em' Japanese!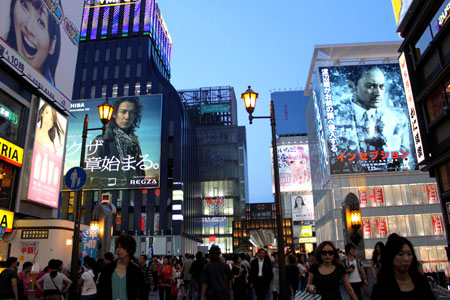 After hours of moaning magical discovery, we've came to our senses and went to the Osaka's version of Petaling Street to have our dinner and do a little bit of our past-time favourite activity, SHOPPING!!
I think my dad is only looking forward to the dinner and not the shopping bit CAUSE I SCREAMED SO LOUD AT THE SIGHT OF A 4 STOREYS OF H&M HAHAHAHAHA!!! It's like saying 'here comes trouble TRA LA LA'!
I love the Osaka's 'Petaling Street'! It's freaking air-conditioned and it doesn't stink and it's filled with pretty thin people!!
That was the moment I unleashed the sexy beast in me to try my luck with Japanese guys HAHAHAHAH!! But most of them either have golden long hair or harajuku screaming in them!!
Where did all my hot hot boys go!!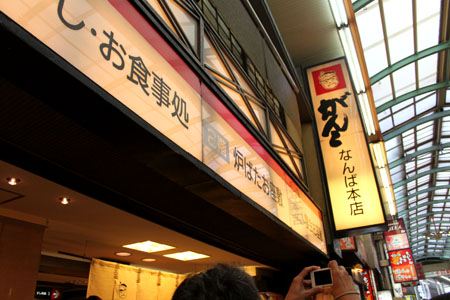 Walking past those streets, one of the shops hidden is our place for dinner. I just love on how there's a display of the variety of food that they serve being placed in front of the shop to attract the people walking by. Why don't we have that when we're play masak-masak?!?!? I only have half an egg shell and a plastic fried egg to play with last time!!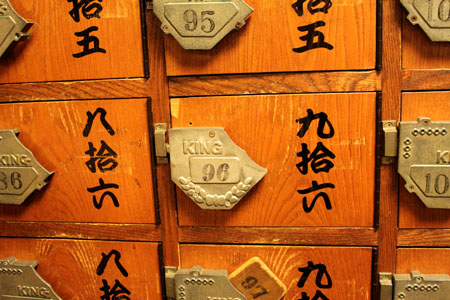 We were each given a slot to put our shoes inside. HOHOHO JAPANESE STYLE YO!! Yes I got the 96 slot because my favourite number was taken!!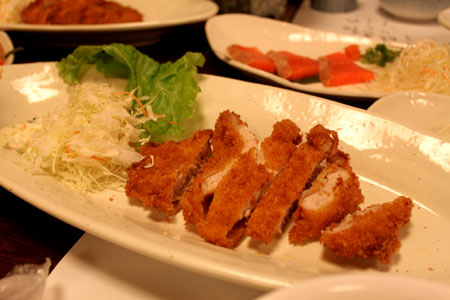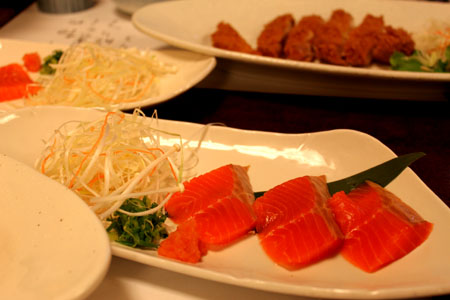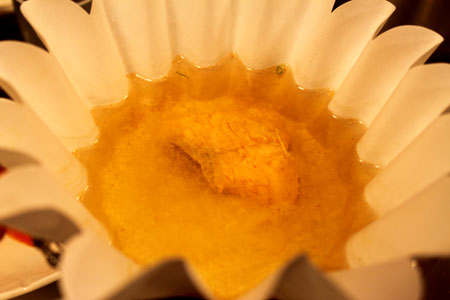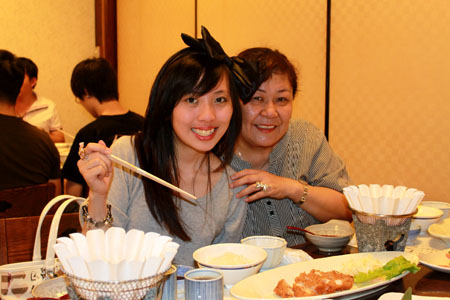 Dinner awaits us as we entered into our room. As i leaped into my seat, all i thought was OMG CHICKEN KATSU, AND SALMON SASHIMI!!!!! To my disappointment, the fresh salmon slices were meant to be put into the boiling clear soup. I really liked this dinner though! It's not something that we would usually get in the Japanese restaurants in KL or Perth. The bowl of semi-boiled egg drenched in soya sauce is meant to be poured over our hot rice which is something I've never tried before.But heck, I was thinking that if I'm in Japan, why not eat like the Japanese right though I remembered my mummy telling me that her father/my grandpapa used to prepare this raw egg + hot rice combo when the times weren't so good last time.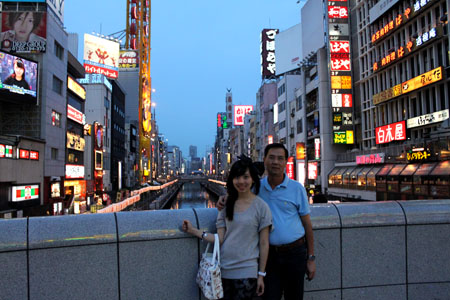 There's a thing I love about all cities, the beautiful lights with the hustle and bustle of people from all ages where each individual possesses a story of their own. I could just sit on the floor and people watch all night. The view of the river with lights from buildings on both sides are remarkable so i took hundreds of pictures with everyone!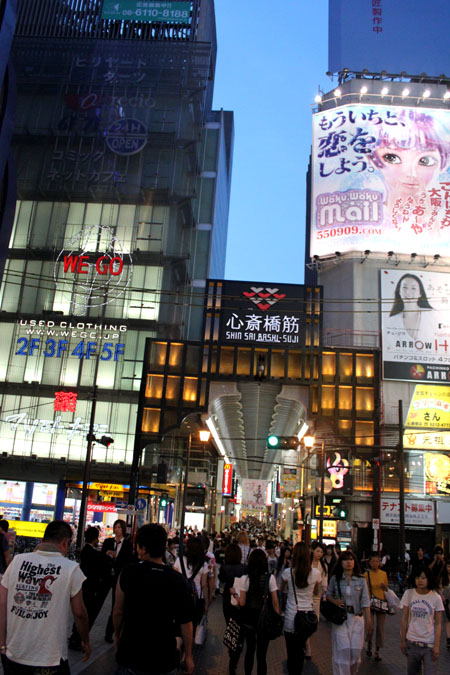 After our heart-filled dinner, I'm all set and fully charged to hunt down all the bargains Osaka has to offer!
THE SHOPPING NIGHT OUT BEGINS!!
Initially, I was just walking with my family in a departmental store trying to figure on how on earth do the sales assistants have the patience to help customers try on their kimonos as it takes approximately 20 minutes to wear one on, and this girl tried on at least two to three?! I know because I entered the departmental store and walked all the floors, came back down and she's still there!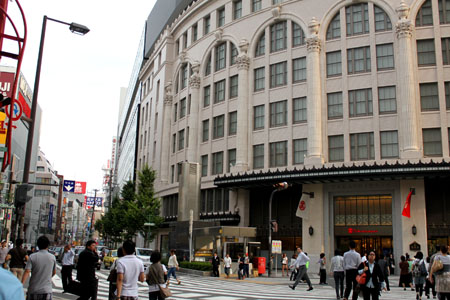 I joined my cousins halfway because I figured that we need to come up with a strategy in this shopping war.
My cousins and I were running back and forth H&M and all the streets as we realised that the stores are going to close soon at 10pm!! Much to our horror, we grabbed all the clothes that we've wanted to try and just wear them over our heads as we've got no time to join the 20 people queue for JUST THREE FITTING ROOMS!! Mind you, each person was having at least 5 pieces of clothing!! We've laid out this strategy earlier on so that we could conquer as much stores as we can! I'm not being ridiculous here but 2000Yen for a piece of apparel IS REALLY CHEAP!!
Both our parents were so tired, I think they went to enjoy themselves at a dessert shop nearby H&M HAHAHAHAHA!!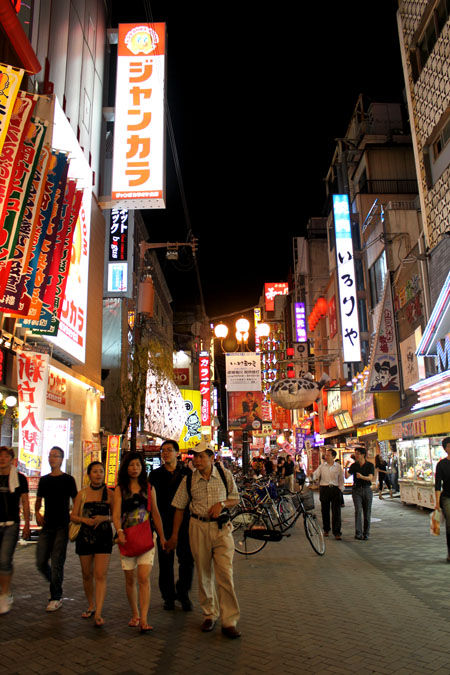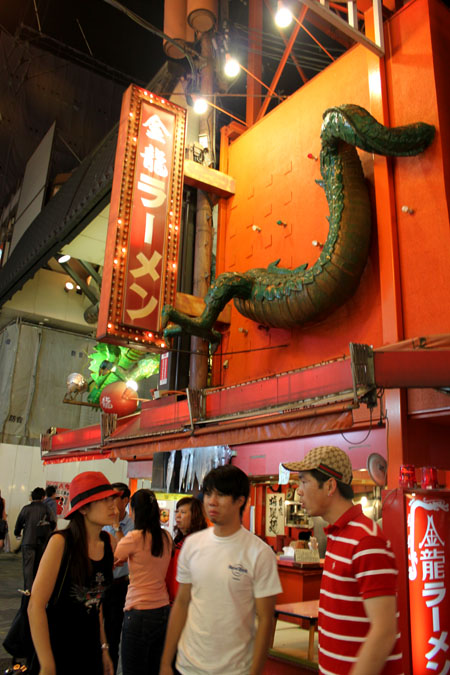 Hours of major exercise definitely calls for a supper at 10pm! Kenro-san told us that there's a stall called 'Green Dragon' along the food street selling one of the best ramen around! As you all may know, all the names are written in Japanese, thankfully there's a green dragon literally next to the signboard! We ordered 3 bowls of ramen with barbecued pork for 5 person and slurp our way to the last drop! One of the best ramens I've tasted as the texture of the noodle was so springy I can be Super Mario X 100! But it was on the pricey side though, with a bowl costing up to 600Yen. YESS HAHAHHA I KNOW WHAT YOU'RE THINKING!! I would spend more on clothes MOST OF THE TIME, rather than on food!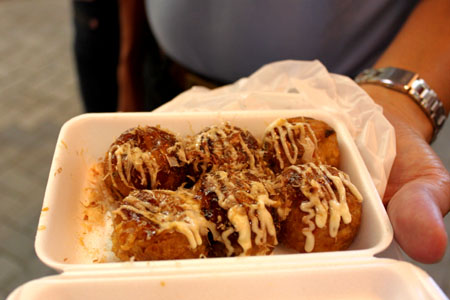 Still wanting to try more snacks, my dad and I went to this takoyaki stall just right opposite and the conversation between Mr. Takoyaki Man and I can be compared to an elephant talking to a banana! I want my takoyakis! In the end, he thought I was from China, he started blabbering in mandarin! Knowing that I have the most amazing mandarin skills in the world, I replied him nicely and he understood VOILA! *okay more like I was using sign languages with my delicate soft fingers hahahaha wtf!*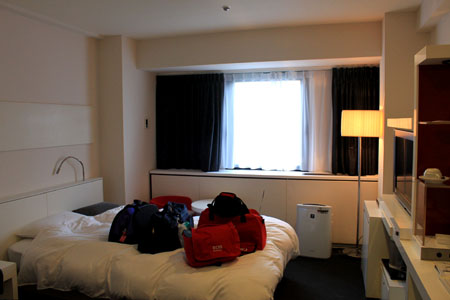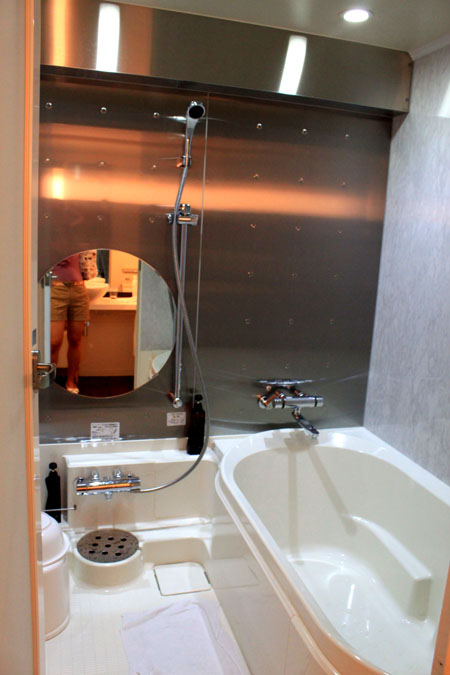 That night was indeed a great start to our whole Japan tour. The best of all is that I've got a electric blue coat from H&M at a steal! I went to bed with all smiles and good ol' silly dreams! I love this hotel!!! Not just for the toilet but the whole interior design of the room and there's a store named after me downstairs at the lobby!! HOHOHHOOHO!!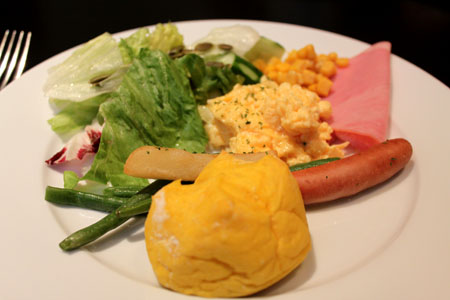 Don't you just love a healthy spread of food for breakfast the next morning? There's more exciting things in the next day so stay tuned!
PS: Apparently, Osaka is ranked as the second biggest city in Japan!