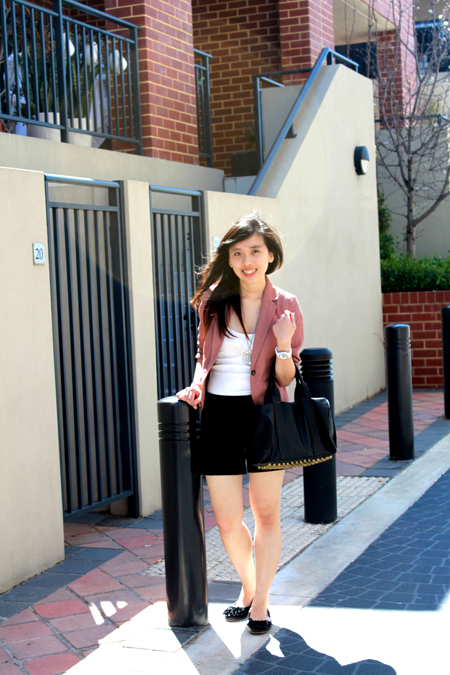 Sleeveless White Top with Frills : Kookai
Black Shorts : Zara
Dirty Pink Coat : Topshop
Necklace : JayJays
Flats : Sister's
Rocco Bag : Alexander Wang
It's the time of the year again where Mummy comes over to Perth to whip up a whole list of food that I've prepared in my 'TO-EAT -LIST'! But then again, everytime she comes over I'll make an excuse to try this and that or restaurants all over Perth because I would love her to try as many things as possible while she's here WTH!
Another reason that I would love this is so that I could dress up!!
Anyhow, we took her to this Vietnamese store in Subiaco market and we both ordered Fried Marinated Chicken with Mixed Noodles! The fried chicken was absolutely to-die-for because it's bursting with spices and OIL once I put it into my mouth!! Super sinful but irresistible at the same time!
As I was having a full week break last week, we made Yam Cake with Hoi Sin sauce that mummy brought over from KL *SO NOW I KNOW THAT WE CAN ACTUALLY DECLARED HOI SIN SAUCE HOHOHO*!! It's been years since I've had eaten my mummy's yamcake cause she's 'retiring' from all these HAHAHAHAHA!!
Now I must say that I'm not a red bean soup person but I can't believe i had 5 bowls of these THAT NIGHT ITSELF!!
I think I'm starting to turn into a diabetic because I could eat sweet things alone for 3 meals a day!
Cucur Bawangs!!!! I remembered that I had 10 pieces of Cucur Bawang just for lunch when I was still in my Fat-Stage last year hahahahhaa!! Thinking of it now makes me cringe because HOW IN THE WORLD DID I MANAGE TO STUFF SO MANY PIECES INTO MY STOMACH!!
I'm just going to alternate between my Japan posts and my current doings so that you won't turn into Harajuku girls/boys doing Dance Dance Revolution in front of the computer hahahaha!