After the short crying drama in the restaurant, we then headed off to another temple called Peace Park Sakura Garden. At this rate, I was completely tired of going to so many temples all the time because I'm anticipating for my shopping escapades so much to the point where all my nerves are filled with terrifying shopping electrons that are dying to leech out of my skin!
Till I saw this little cute ferret that was being surrounded by small kids up to my knee's length and myself as well *coughs* going 'AHHHHHHHHHHHHHHHHHHHH MUMMY I WANT THIS TOO'
It took us long enough to reach Level 5 of Fuji Mountain and there were so many cars and buses heading there as well! With the amount of people there, I think you can set up a village in that instance. Now now I'm quite surprised with myself because seeing that most of the women are browsing for souvenirs to buy in that huge house-like store, you thought I would be in it for a good hour too right? WRONG!! I only went in after taking pictures of everything around which includes scenery and shameless self shots. Plus, I only went in because I found out I could get a free noisy bell LOL!!
It's FREEEEEEE!!!
Now now, seeing the only stall grilling squids, beef, sweet juicy corn and some spicy fishcakes I presume definitely made me insane to join the 15 minutes queue. I'm pretty sure the aroma from those grilled goodies definitely hypnotized me at that point. The Japanese loves putting chilli powder on everything they eat! In fact, I'm so crazy over those chilli powder, we bought two tubes of chilli powder back! I don't know if it's just me but when I was a little kid, I was so obsessed with chilli powder that was used to be provided by all pizza restaurants, I pestered my mum to get them for me from the supermarkets and then I would secretly sneak the bottles of chilli powder into my room and eat them HAHAHAHHA!! Well at least it's better than eating drugs?!
I just love them Japanese when it comes to snacks because who would have thought of STICK FRIES? At least that's what I think it is! Of all the brands I've tasted, i think Jagabee gives the crunchiest texture whereas the packaging of another brand(which I've forgotten it's name or maybe because it was written in Japanese) is way cuter!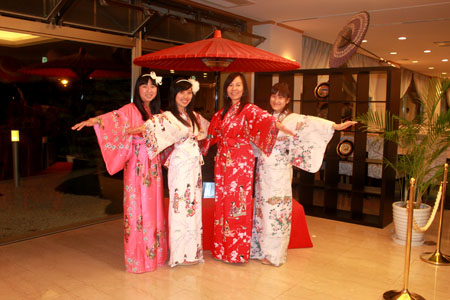 Remembered that I've told you I bought a Yakuta from the previous post? Well, we were staying at a typical Japanese House with Tatami bed-like style and everyone is encouraged to wear a Yukata when they're staying here before heading to the spa. It was definitely a night to relax as we were headed to a buffet where freshly steamed crabs are being served and we definitely had dozens of it for dinner. After the satisfying dinner, we decided to head for spa. Yes, everybody was freaking naked and we had a fun time with my cousin and my sister. We ended up staying in the 40 degrees water for an hour and decided to have shower fights HAHAHAH!!!
Unfortunately, as I was sharing a room with my cousin brother and aunty, there were only a Tatami floor board that could accommodate two of us. For your information there was another two soft fluffy beds in the room. BUT ALL OF US WANTED TO SLEEP ON THE TATAMI BOARD LOL WTF SO WE FREAKING SQUEEZED ON THE FLOOR. I think we're so funny sometimes because we kept coming up with reasons that the other one of us could not sleep on the floor due to back pains and what nots but it's really comical when you think that three foolish people are fighting to sleep on the floor literally. After a good hot spa, we gathered in my room taking continuous stupid shots and played some stupid games with the adults, but the punishments was drinking water instead. Trust me, drinking water is worse than having to gulp down alcohol. YOU WOULD WANT TO PEE ALL THE TIME AND THE FREAKING RULES RESTRICT YOU FROM HAVING TO GO TO THE TOILET!!!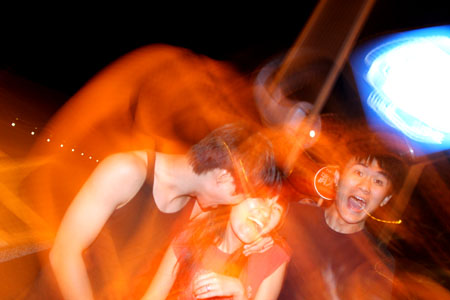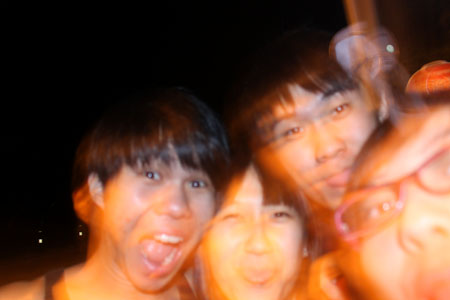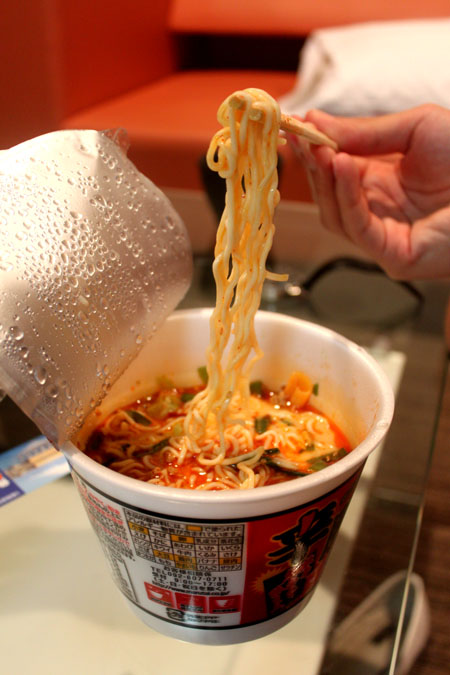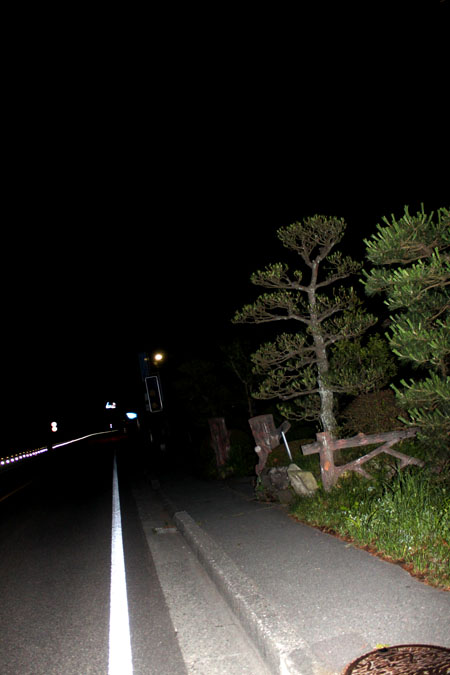 Now for the fun and scariest part of the night, it was close to midnight and the only ones left were my cousins & the bf, and I. We were starving by then and we've decided to walk to the convenient store that we thought was 5 minutes away. Little did we know it was FREAKING FAR BY WALKING and it was definitely scary because on the way there, it definitely felt like the longest 20 minutes of my life. The houses or buildings that we passed were dimly lit and some, it was so dark you would think it's haunted. What's worse was that there was no lights on the streets and my stupid cousin kept freaking me out with all the haunted stories!!! After having gotten our instant noodles and freaking ourselves out for the second time on the way back, we've found out that our parents were out looking for us OHMYGODDD because they found out that we weren't in our rooms.
Weird thing was, we didn't see them on our way back. And then everybody got worried of each other and in the end we got reprimanded boo hoo hoo!
However, despite that, it was definitely a fun night out because we got to see the big big swans that came out at night hanging around by the pond and we got to eat the instant noodles which was so good down to the last drop!!!!