HELLLOOOOO to all you chic-sters out there, hope everyone has planned a wonderful weekend ahead or if you haven't, take a breather from what you're doing and head out to experience every little detail in your surrounding. So, so good for the soul and I'm really thankful that my beautiful Saturday is here, yet again! It's been a busy week for me and I've got some exciting stuffs coming up soon so do watch out on this space!
Denim pieces has always been a staple in my wardrobe because it's such a versatile piece for many different styles out there. Pale, dark, white-washed, tie-dyed, 50 shades of blue (hahaha so corny!) or even printed denim! There's just so much you can do to denim that you'll get a headache from thinking all the endless possibilities. However, I'll just focus mainly on printed denim in this post because I think there's just a different aspect on styling it compared to its denim family.
Being an avid online, I STRESS, window shopper, I get all excited and do a little circle dance when I see something unconventional. Be it gumball machines or a macaron jewellery box, there's just so many weird little things that could bring my level of excitement to a whole new level and this jacket is no exception to that.
Definitely not a minimalistic approach but it would be nice to play around with loud prints every now and then for the faint-hearted. Since the rigid material of this statement piece gives a strong sense of masculinity, I've soften it up by putting on a similar printed scarf and tied around as a headband. Though hardly visible here, the scarf print screams 80s and as eccentric as the outfit can get, I thought that it wouldn't hurt to add a pair of perspex framed sunglasses as the last statement piece in an outfit. For many months now, I have an unspoken rule that I generally stick to when putting together just any outfits which is 'You can only have up to 3 statement pieces' in an ensemble from head to toe.
You may have noticed that I'm already walking on the borderline with the denim jacket, printed scarf and the sunglasses as they all pop up at first glance. Not only that, but it is fairly important that all of the statement pieces works well together in terms of style. Giving in to that rule, that was the reason why I kept the other pieces in neutral by going all black and gray just to give my outfit different shades of colour without overdoing it.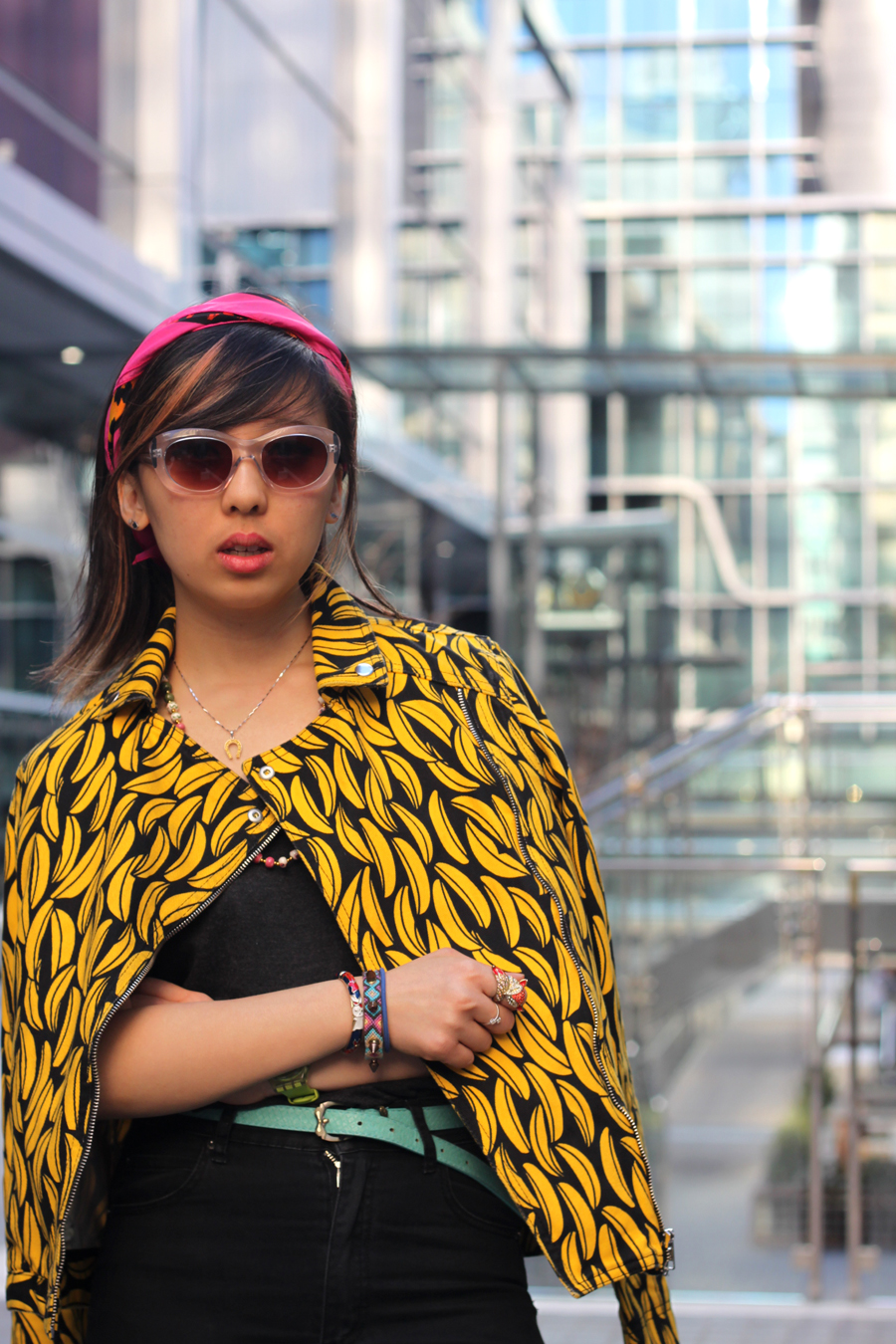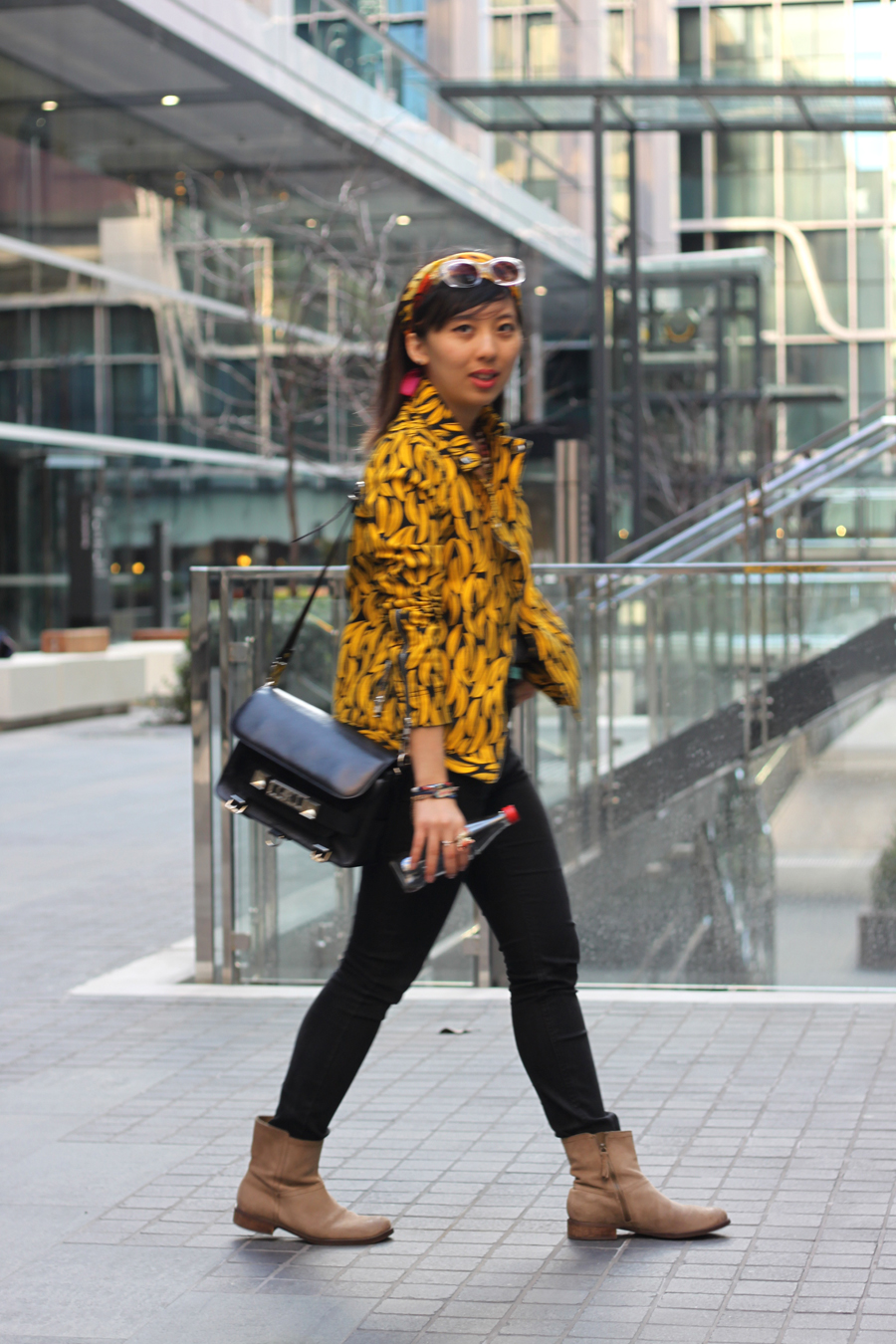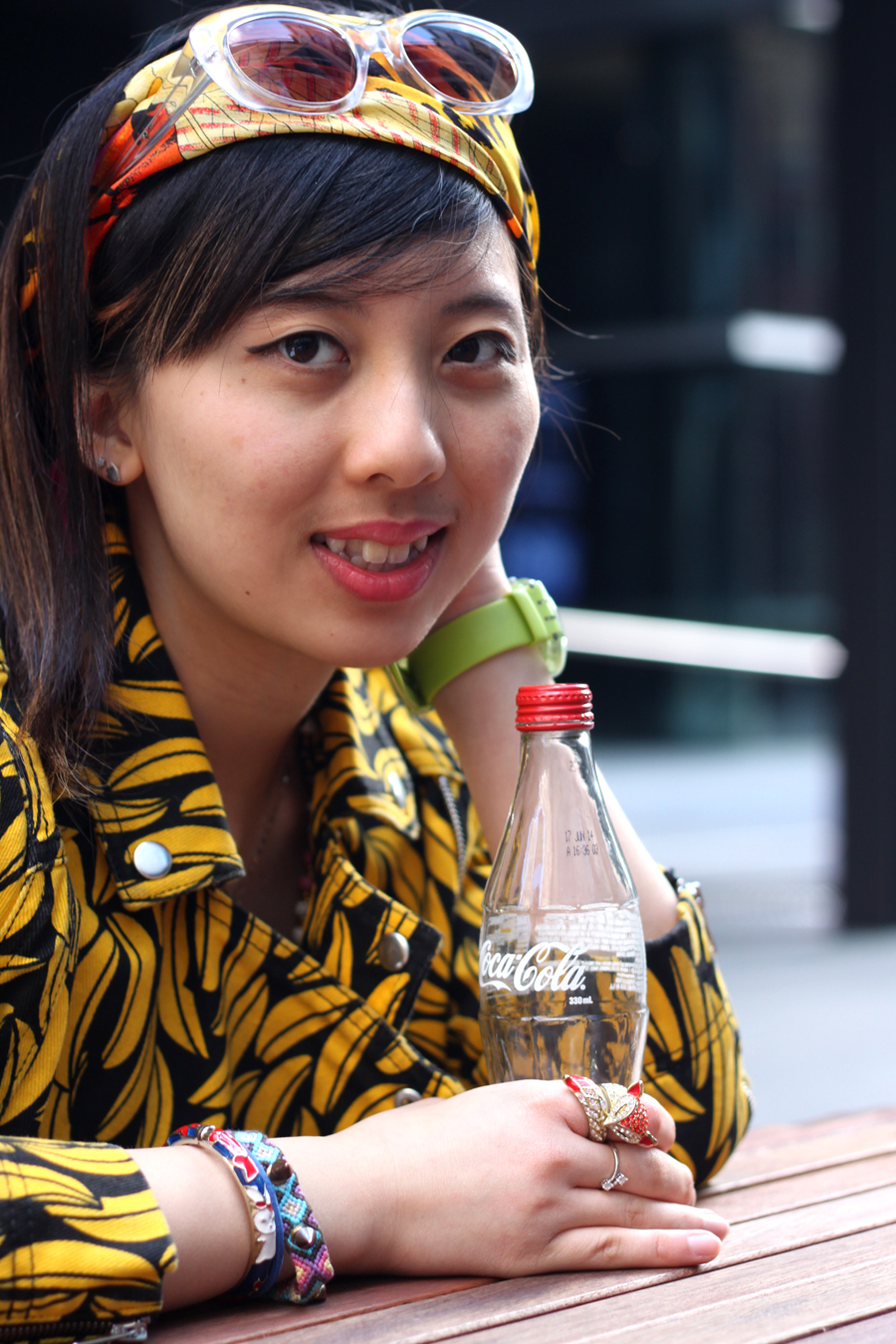 I hope you've enjoyed this post and do leave a comment below if you have a certain rule to live by when getting dressed up as well? I would love to know what other tricks that everyone else have in mind!
I sure do look tired here because I really am, but it's all worth it when you're spending time on something you love and have interest in! I always tell myself that if you're tired over something, make sure it's something you do and it's worthy of being tired for! I can guarantee you that the satisfaction will be tenfold and it's just the most amazing feeling in the world!
I was wearing:
Versace x H&M Scarf
Topshop Bananas Printed Denim Jacket
Cheap Monday High Waisted Jeans
Proenza Schouler PS11
Sarawakian Beads Necklace
Ninewest Taupe Ankle Boots