HAPPY NEW YEAR everyone! I'm back in Perth after the most wonderful holiday in Sydney filled with adventures and stories that are left to tell in future posts to come! Before I do just that, I just can't forgo telling everyone what a wonderful birthday celebration I had with my favourite girls! As we're all grown up independent women (GIRL, we goin' Destiny's Child), it's high time that we do what the ladies usually do and bond over. A high-tea session in Hyatt Regency couldn't be more apt.
Seeing how closely-knit we are, of course going to ladylike places will not hide every bit of unattractive expressions that we show one another as our signs of affection. Take snapchats for example, anyone would be so appalled if our pictures exchange were to be leaked out.
Which brings me to this, there are so many ways on picking the perfect pieces to make yourself look a little more girly for that special occasion or just because you want to feel extra feminine on a certain day. First off, a soft blowy fabric seems to do the trick every single time and you can see that I've pick one in white with crochet details around the yoke area and also around the hem. Given that it's a fairly loose dress, I can't stress enough how easy you can create a silhouette with a belt around your waist area. As a stylist, I can tell you that belts are one of the most essential piece that will keep your outfit in check and in the right fit. In this outfit, I've chosen a pearl chain belt so that it sits loosely on the waist without pulling in too much fabric from the dress to make it look scrunched up. In my case, the belt was a tad bit long, so it'll be great if you can halve it by tugging it through the belt. Otherwise, it'll give a dimension that the person wearing the dress will be much shorter than they are. It's all part of the illusion of getting the lengths right.
Ever since my 21st birthday, I've always wanted the party hat from Sereni and Shentel for that special accessory on my future birthday celebrations. Wanting to match with the tangerine hue of this statement accessory, I've gone with my melissa shoes jelly flats as my go-to comfortable shoes. It's not necessary that only heels can make you extra feminine, go with flats if you're more comfortable walking in them! To top it all off, I've completed it with my pink little stam bag with gold details to match with my other accessories and also my warm skin tone.
If you're new and wanting to know what I'm speaking of, if you're of a warm skin colour, gold matches your skin best when it comes to accessories and if you're of a cooler skin tone, be sure to go with silver!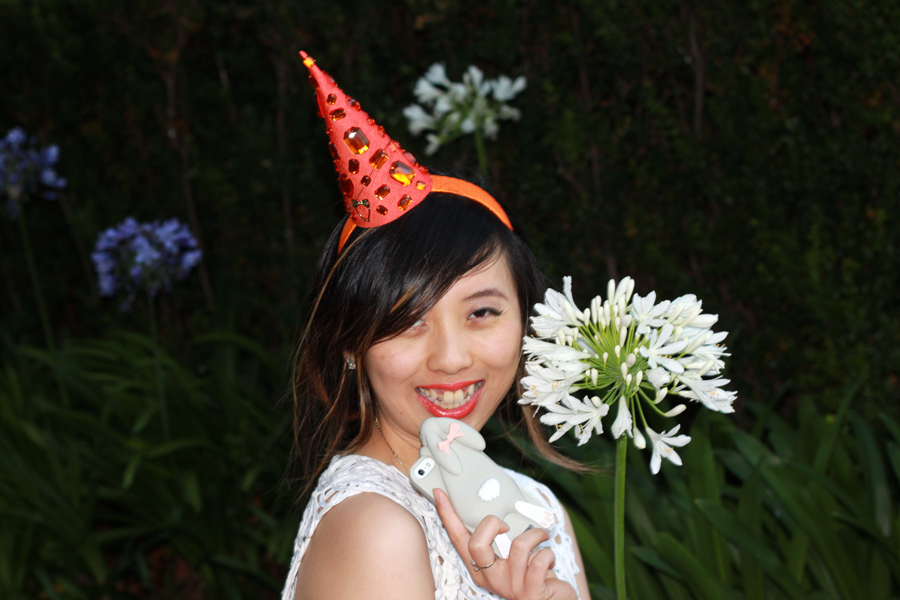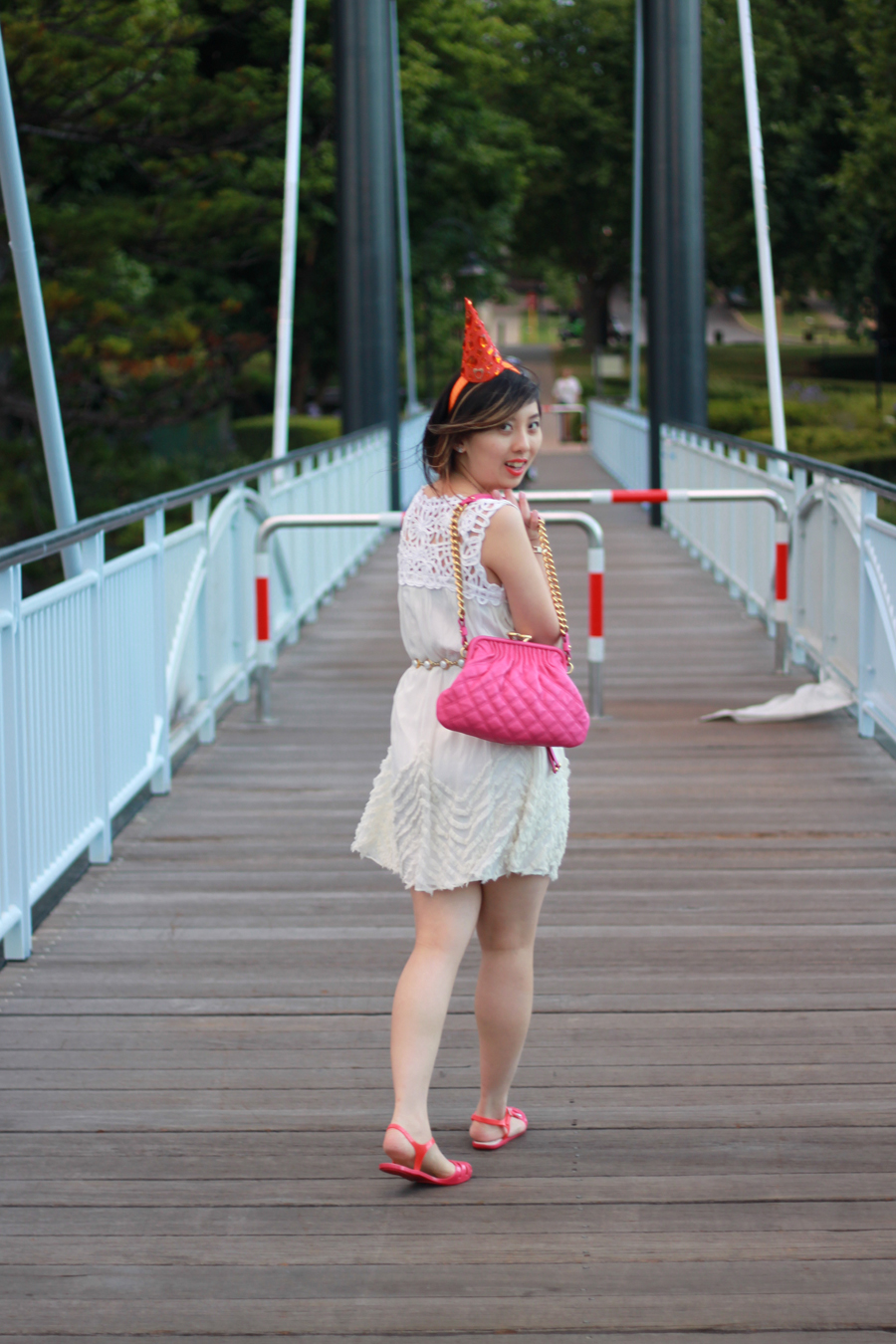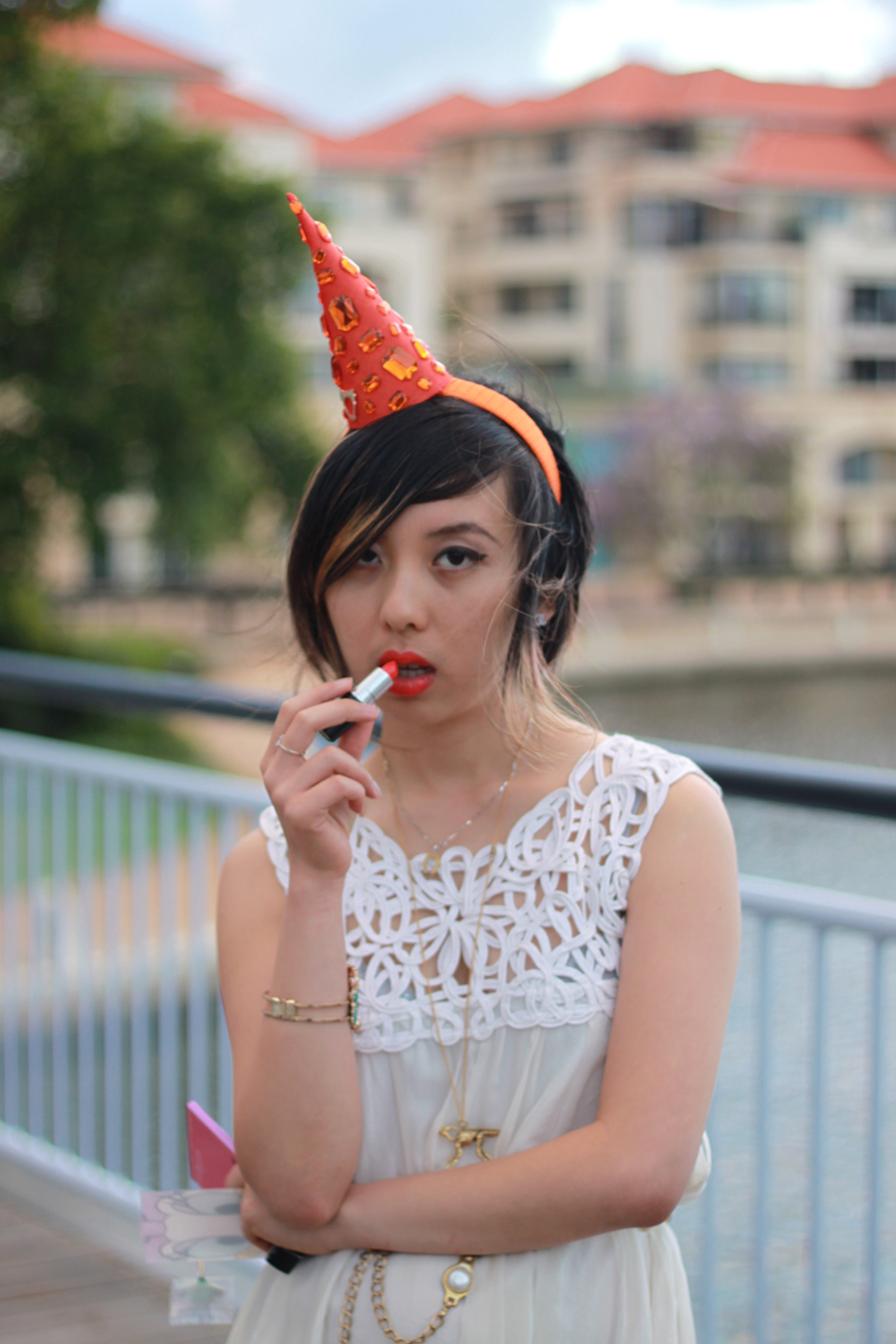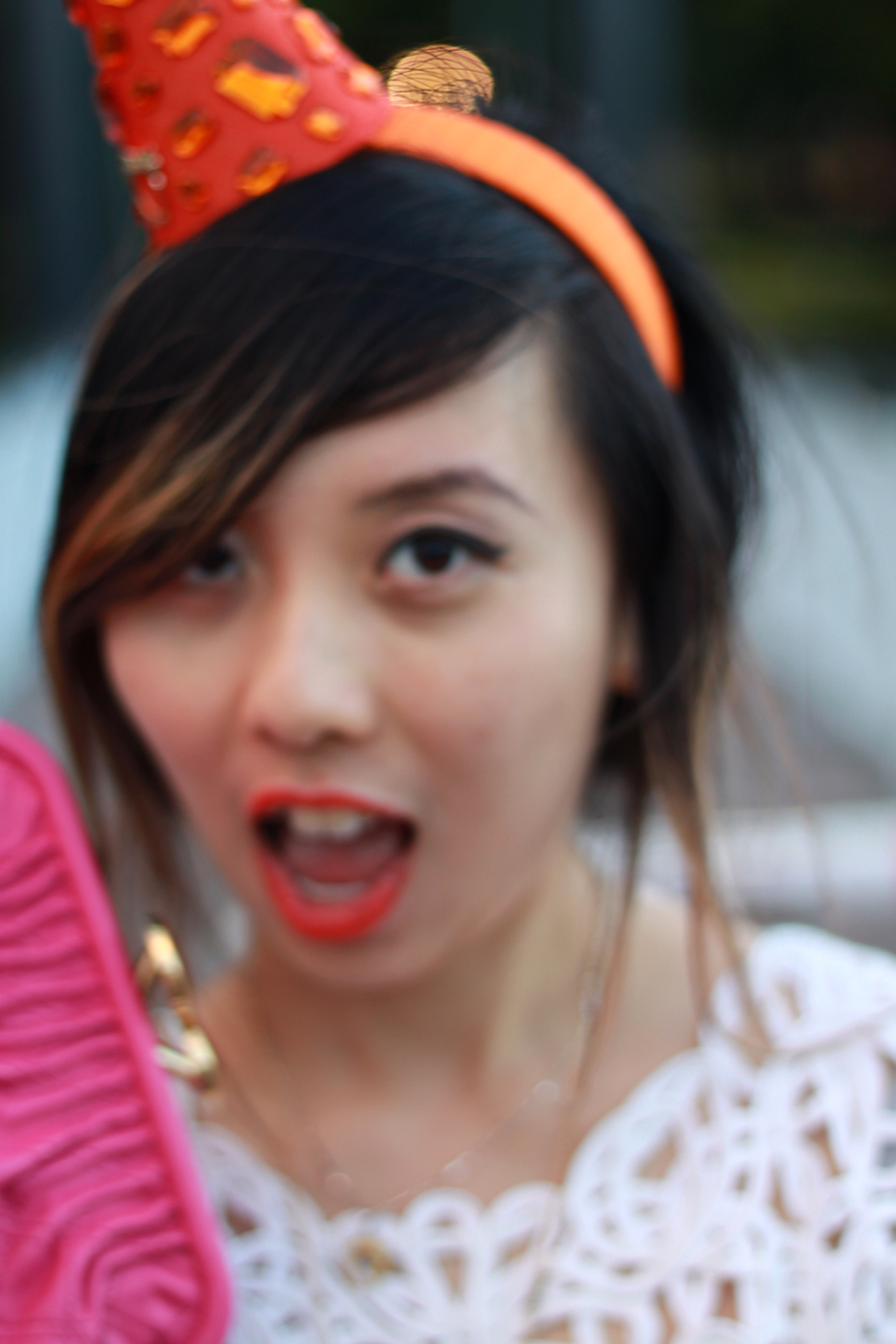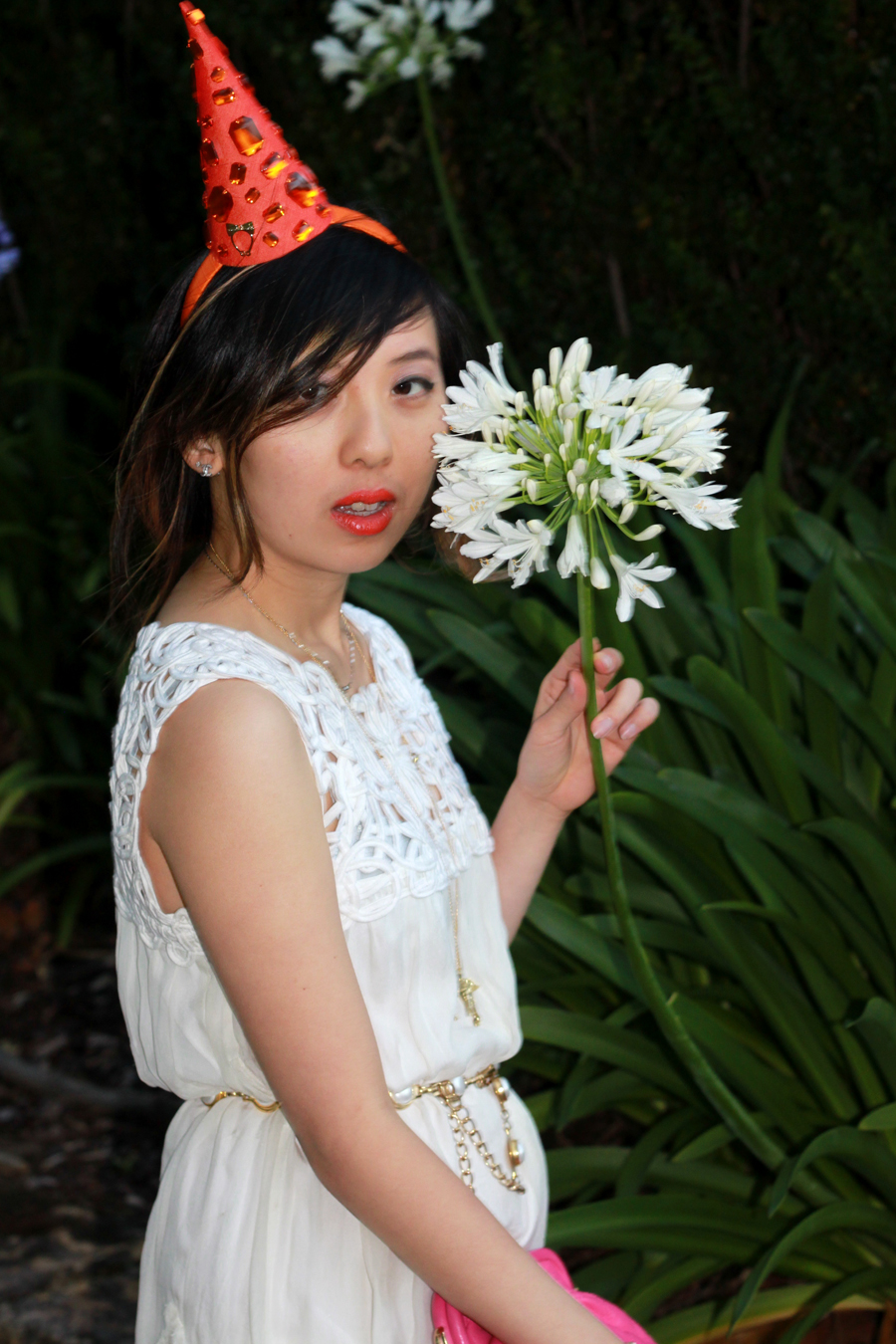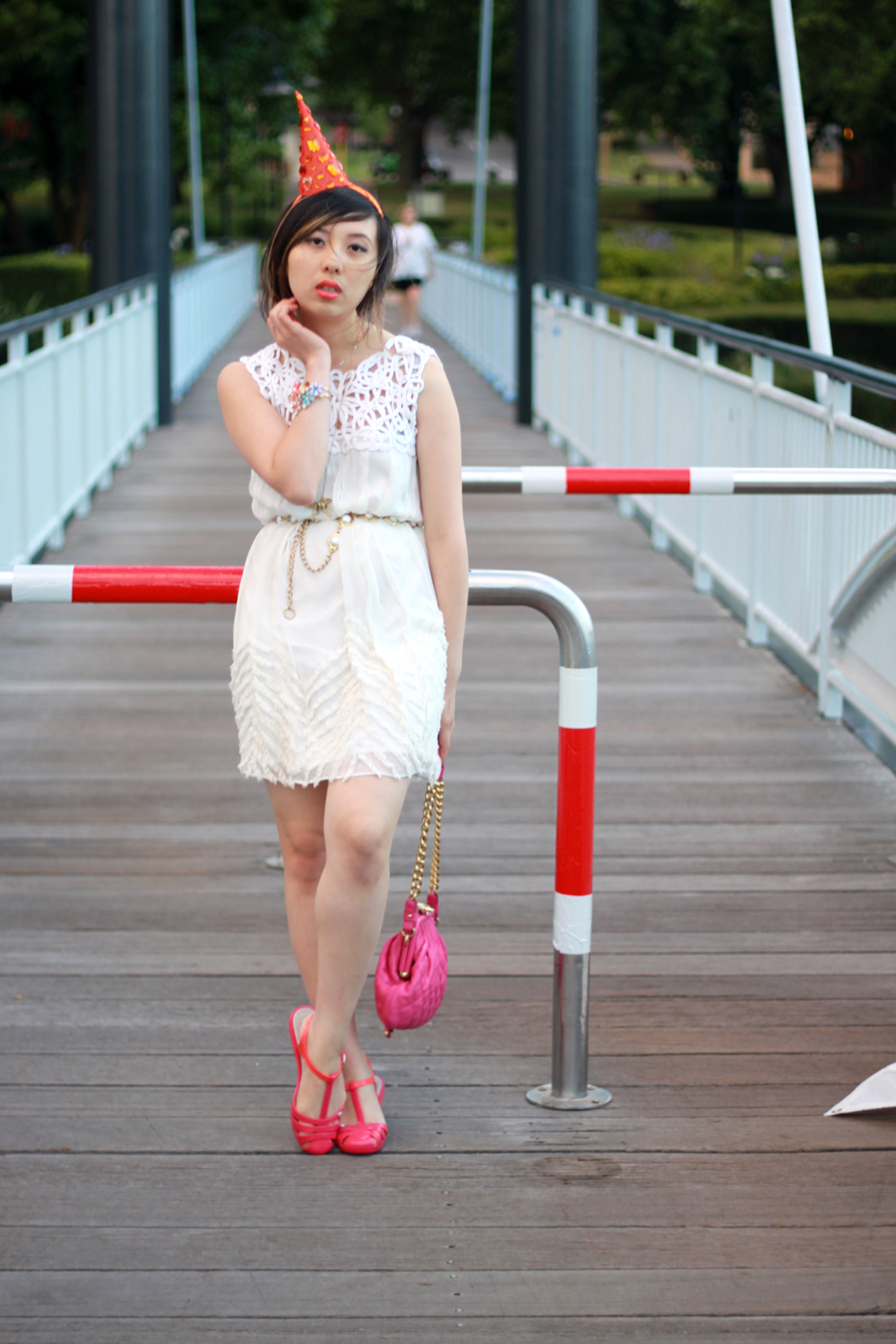 Hope that you find my tips and tricks useful and easy just like getting a bunny out of the top hat bag. Stuffing ourselves silly with food at a high-tea isn't what you call a ladylike behaviour but at least we've tried! The ladies next to our table got really excited with my party hat that I've lent it to them for pictures of one of the ladies' birthday celebration, and in return, they all sang me a birthday song! Ended the fuzzy warm day with a beautiful dinosaur fossil necklace from my girls which you can see me wearing in the pictures above.
THE BEST! Love you girls long time!
x
Hair : Inge Wong
I was wearing:
Sereni and Shentel Party Hat
Muse by Alvin Tay Dress
Marc Jacobs Little Stam Bag
Zara Pearl Chain Belt
Tu Dinosaur Fossil Necklace
Melissa Jelly Flats