This has to be the quickest post that I had ever done immediately right after a trip. You'd probably have Joanne from Struck By Sunshine to thank, if not for her constant threats. I'm not sure if it's just me, but it was definitely a nightmare getting into Sydney on the first day as I always fall sick whenever I catch a plane and the worst was that my flight was delayed. Putting all the negativity aside, I persevered and kept reminding myself that I was there to make the most out of it!
As soon as I got to Joanne's apartment located in the heart of the city, I was instantly captivated by the breathtaking view of Sydney just right outside of her balcony. Gone are the days where I've been longing to be back in a bustling city.
It was a day plainly for us to indulge in what we hope to do when we hit into our 30s, a tease onto what our lives could possibly be in a decade. Located at the top of Queen Victoria Building, a structure that reminded me so fondly of Harrods when I was in London, lies The Tea Room. Thoroughly fascinated by the architecture of the building, what I believe to be strongly influenced by the Victorian times, we lasted an hour of battling through the amount of buttery pastries and sweet desserts ordered. Thankfully, I was told that we'll mostly be spending our time around the city to burn off the pounds added on, I jumped at the opportunity to blend in with the Sydneysiders at work, given that it was a Monday.
I've always try to live by the motto of dressing for the job you love rather than the job you have! Don't mind me, but I'm up for colours even when it comes to work attire, just to perk up yourself or others around you! It works effectively on providing that much needed energy especially on a workday. I understand that many will associate colours with being casual, but to keep it professional, you could go with well tailored pieces or the ones which are made out of fabric that looks expensive such as silk. In this outfit, you can see that I've got my share of bright colours coming from my headband so I'm going to leave the rest of my outfit soft to keep it work friendly. As hot as it can be, I've picked a floral printed silk cami to beat off the heat and keep myself cool with minimal fabric. Not wanting to cut down on too much fabric from the look as a whole, be sure to pair the outfit with a long pants. Instead of going for the normal skinny work pants, you can play with the silhouette by getting a pair of ankle length capri trousers that are well tailored so that it's appropriate for work. It's also essential that you tuck your tops in fully or semi-full to give it the neat finish. For shoes and accessories, I've kept it all minimal by choosing a nude pair of sandals (in this case, anything that's of neutral colour will do) and just a piece or two of jewellery does the trick.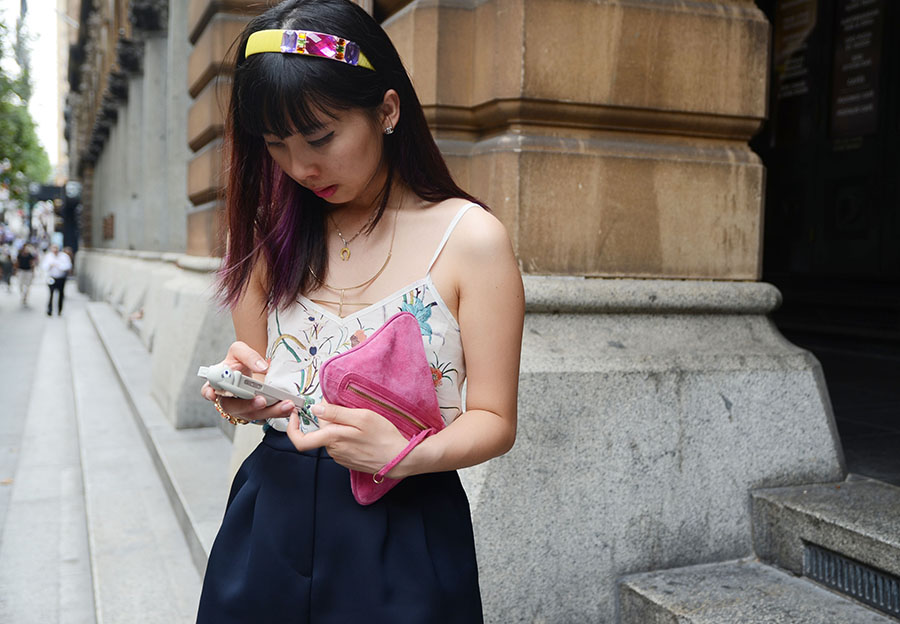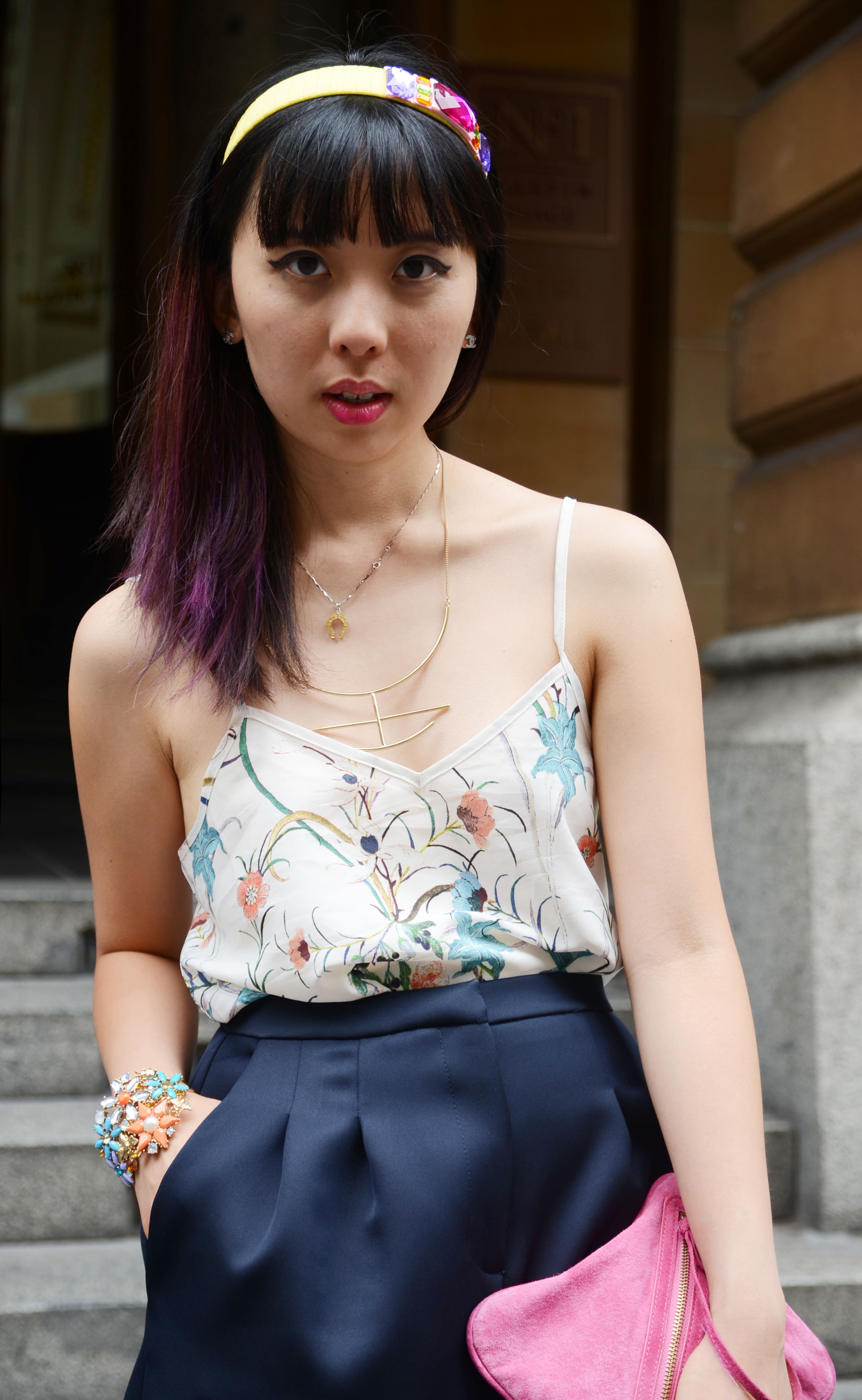 Nothing beats the feeling of not having to work on a Monday yet still being able to enjoy wearing work pieces as I would call it.
Are you ready to take on the world?
x
Photographer : Joanne of Struck By Sunshine
Hair Colour : Tao of Hair by Daniel Yap
I was wearing:
Sereni and Shentel Personalized Blair Headband
Topshop Silk Cami and Capri Trousers
Ninewest Sandals