Staying in one of the most gorgeous neighbourhoods in Sydney, it's inevitable that the street just right outside Joanne's apartment is so picturesque. Skipping right onto Boxing Day, all of us girls took note from the day before that we should braced ourselves with the crowd that's going to fill every inch of walking space in the city and also to dress in pieces where we can be ever so efficient in when it comes to fittings. Of course, advice often fall on deaf ears when it comes to us girls or rather just me. This is probably the only day in the year where the stores in the Australian shores open as early as 6 in the morning. What more reason is there to celebrate on that day apart from Christmas?
Foreseeing that it will be a tough day, getting ahead of people just to grab that last sale item on the rack, I wanted to be dressed in a light outfit but also not looking too casual to begin with. With a denim on denim thought in mind, I've gone with my denim printed cotton shirt mainly for the lightweight fabric so I wouldn't have to endure situations where it gets too uncomfortable. As this comes with long sleeves, I would advise you to fold the sleeves up about 3/4 length to casual it down. For convenience sake, I would advise you to go with a shirt if you have styled your hair and you know that you will be spending your time mostly in the fitting room. It might take a bit more time having to go through the buttons, but it can't be worse than having to straighten your messed up hair every single time you pull a top down through your head. I've experienced this one too many times!
With initial thoughts of pairing my outfit with a pair of high-waisted denim shorts, I've swapped it around with a pair of ripped skinny jeans as the weather was on the chilly side in the morning. Having to walk fight against the wind while walking past the wind tunnel reinforces my decision to go with a long pair of jeans just to make sure I don't fall under the weather before I even hit the city for Boxing Day Sales! As I'm trying to achieve an effortless look, any fit for the bottom will do just fine with the ever so versatile denim shirt. Boyfriend jeans, cigarette fit, flared, high-waisted, skinny or anything that you can think of, it'll go along just well. More importantly, pick something that you're most comfortable in, particularly when you're required to walk a marathon like we did on days like these. For the neat finish and also to make yourself look a little bit taller, be sure to tuck in your shirt to give yourself an illusion of a shorter body if you have shorter legs in comparison to the body just like mine. Having said that, it is also the reason why I've always opted for skinny jeans as it gives the fitting gives the perfect illusion of longer legs!
Feeling rather invincible on that day, accessorising to feel like one of the boys comes into mind. Well, not that boys accessorise but you get the drift. I've went with my favourite printed caps to match with my theme of the day and toughen up the look even further with a pair of boots. It's definitely okay to wear boots during summer days that aren't too hot, but be sure that it's not lined with fur on the inside or that'll leave you with an unwanted feeling. As I wanted everything to be minimal, it is most practical to bring out a bag that slings across your body just enough for your wallet, phone and other necessary items. Not forgetting my bling-a-ring for that swag factor, I've laid a flamingo necklace just right around my neck to complete my outfit.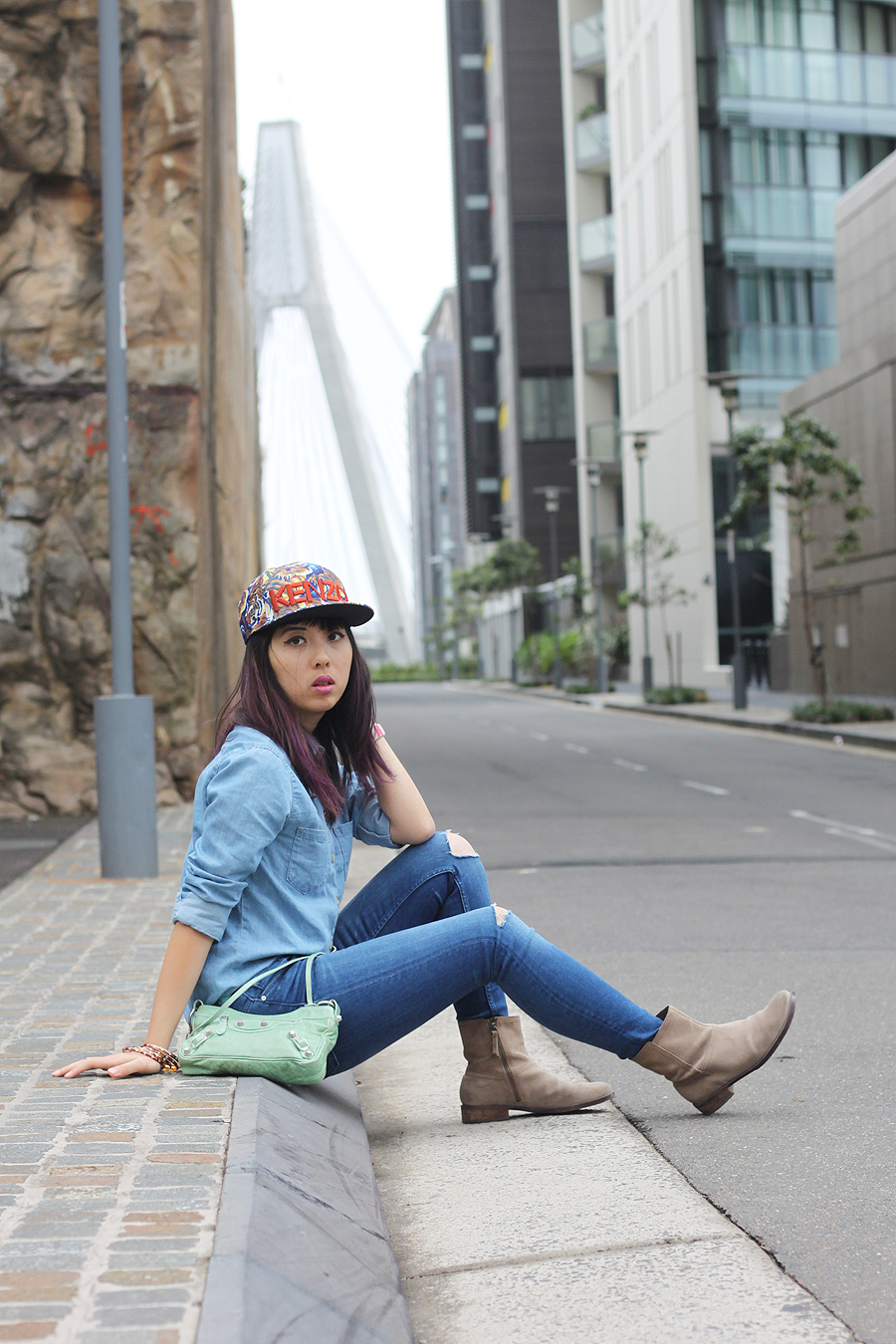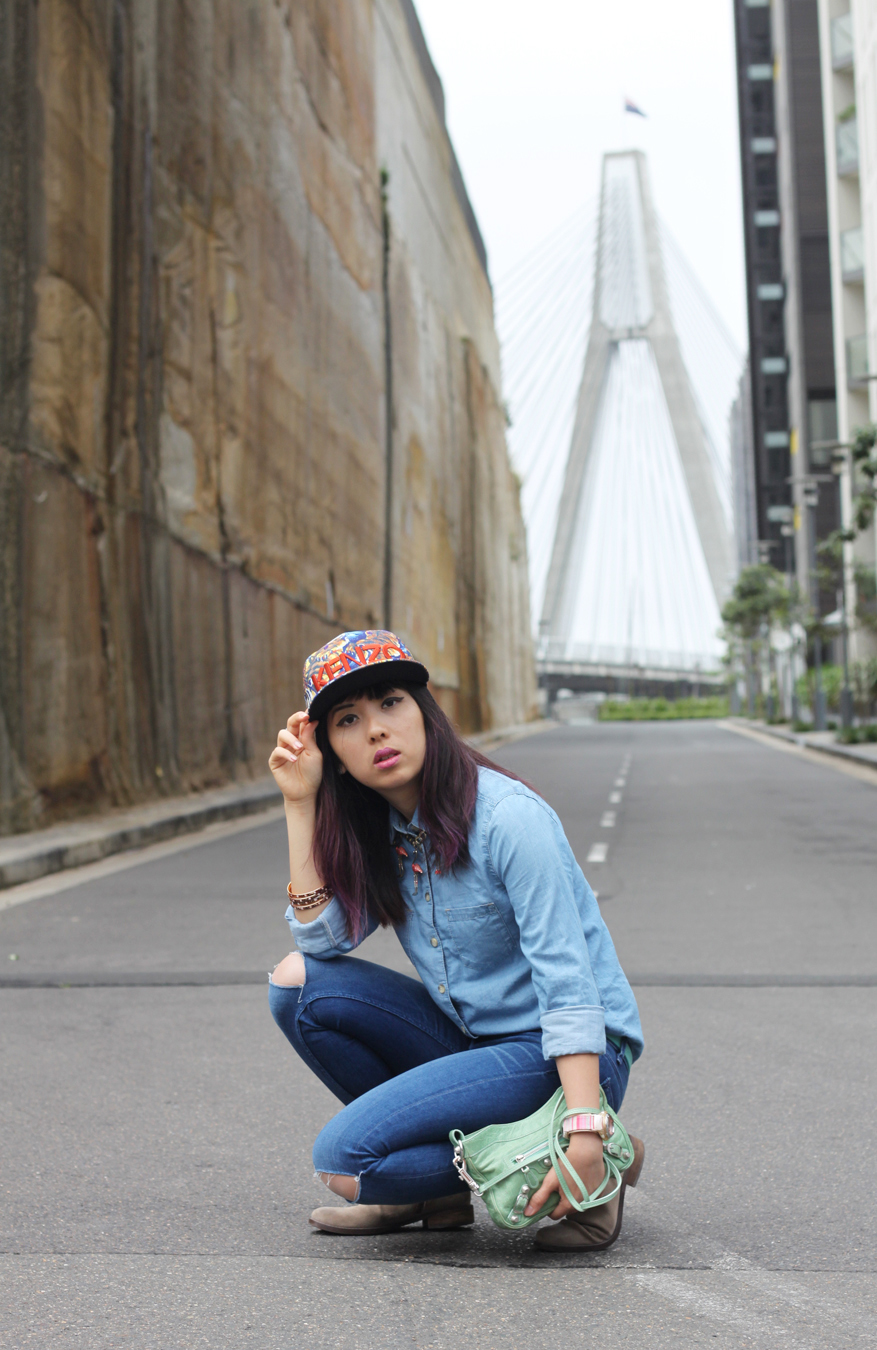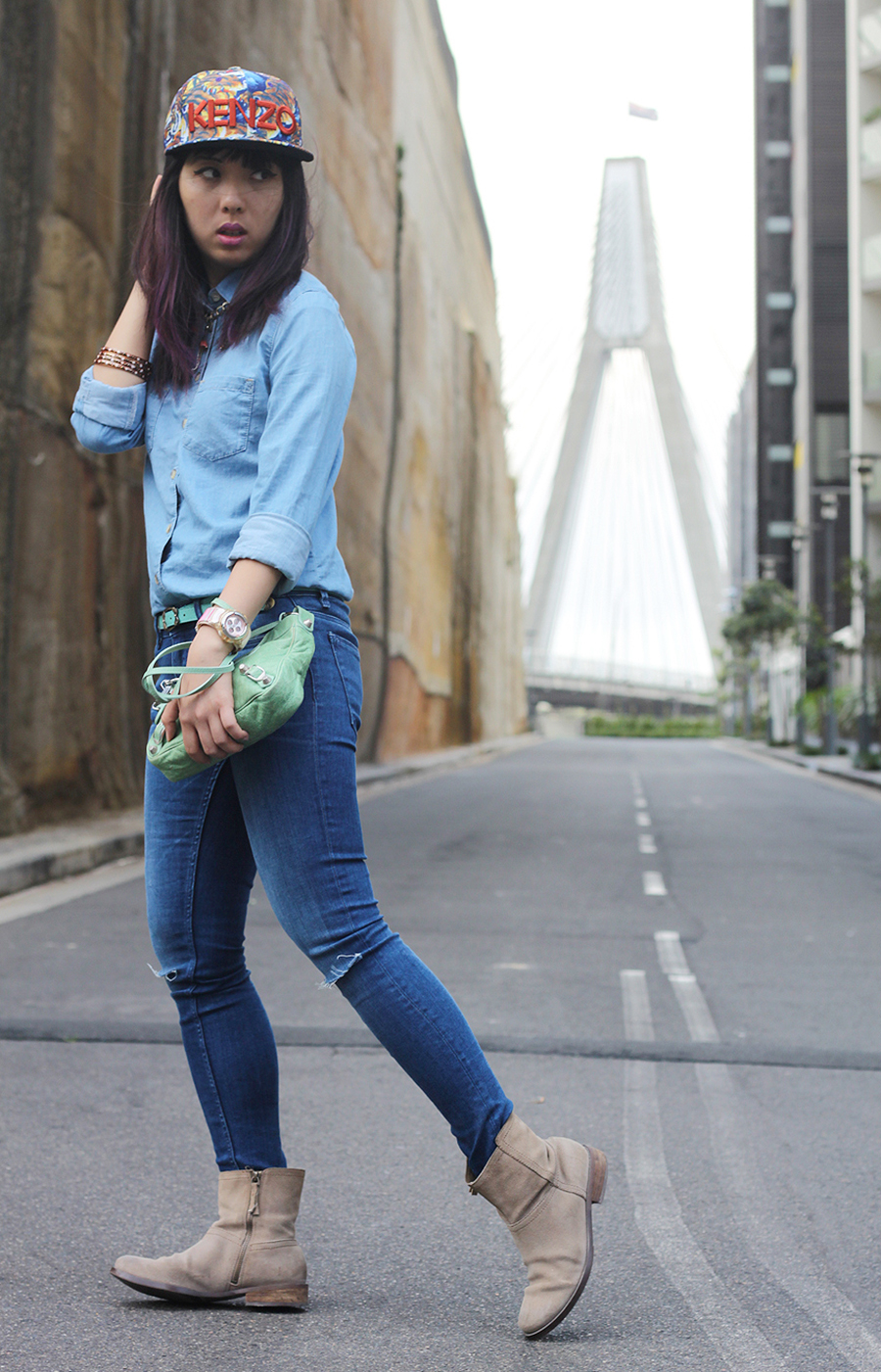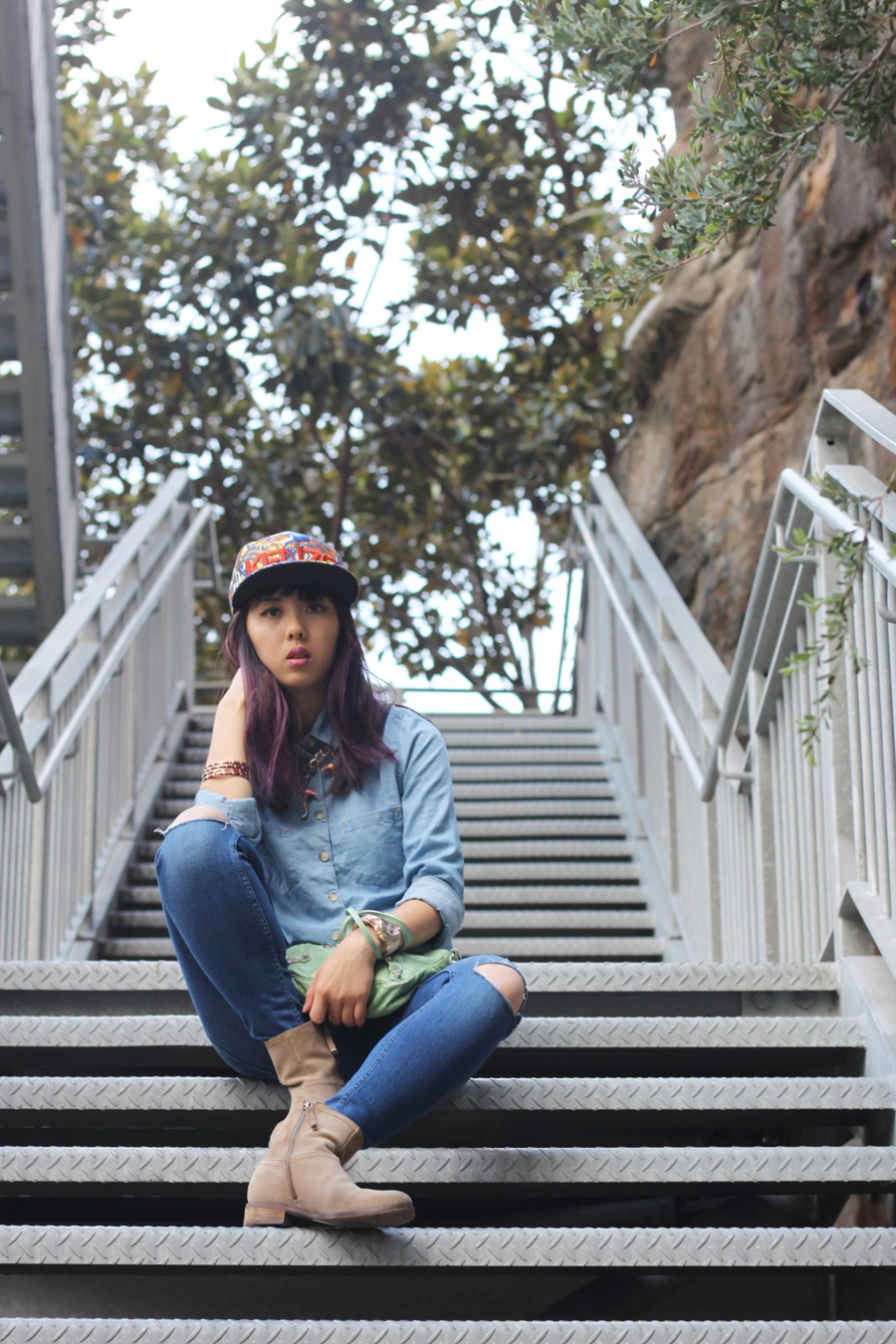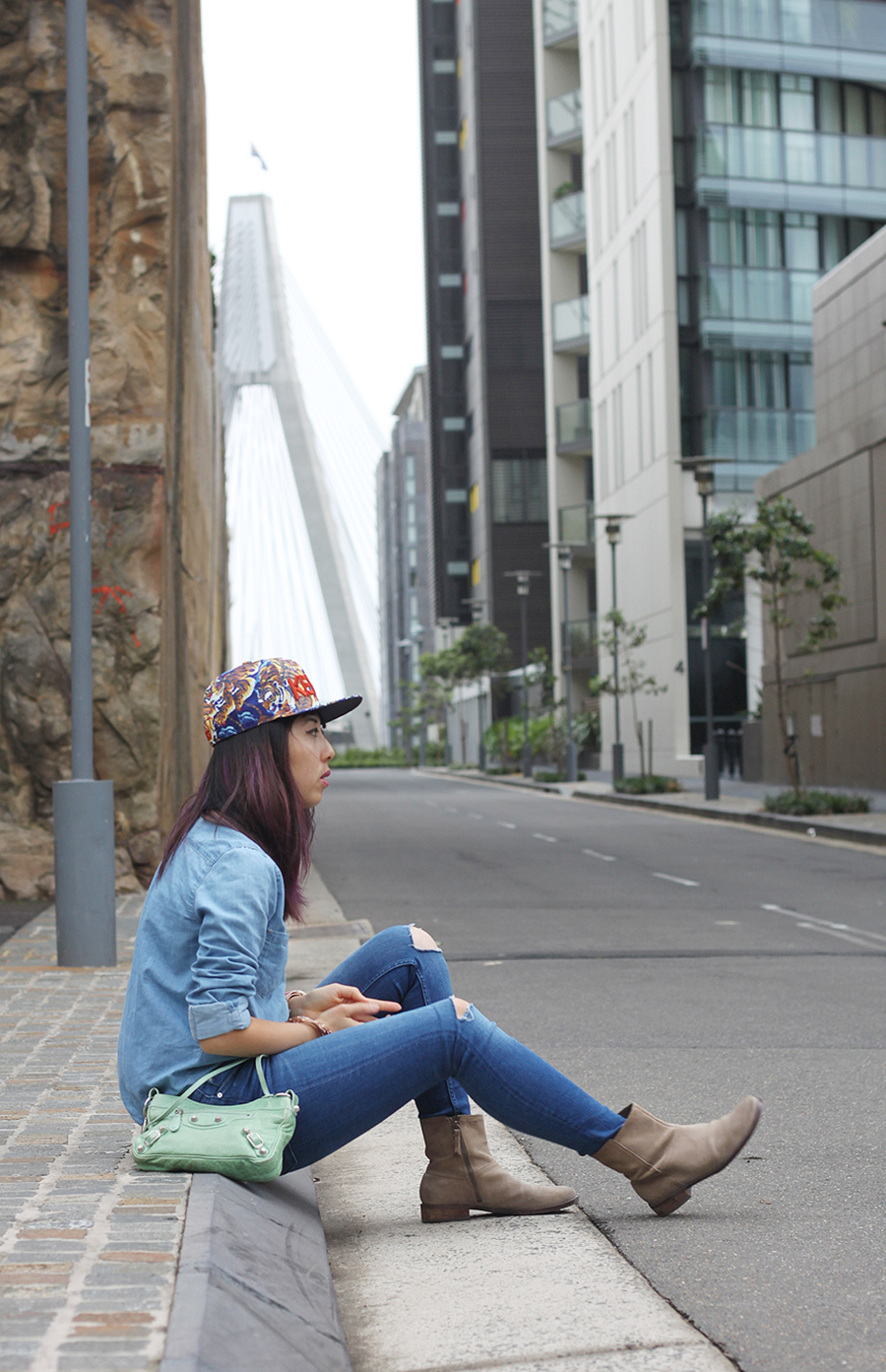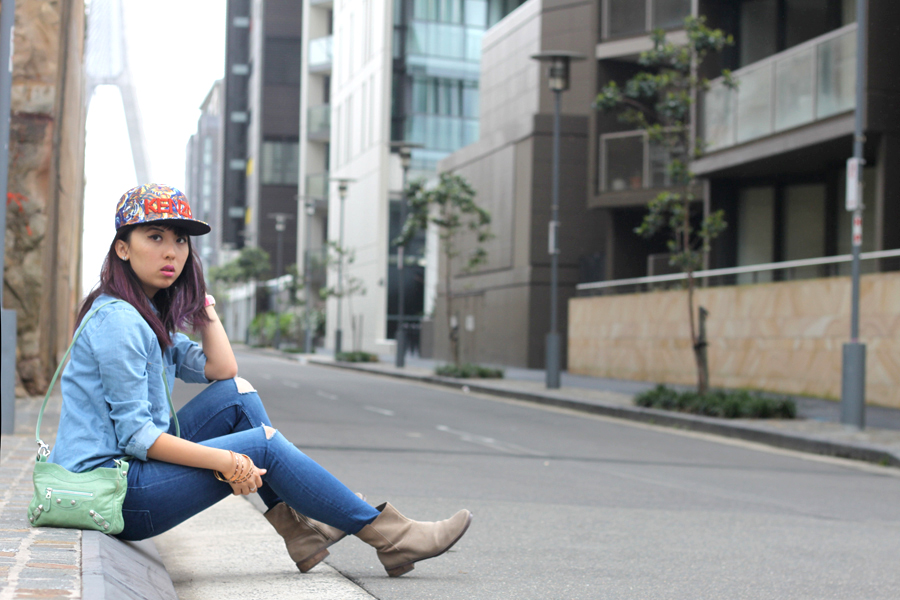 As soon as Michelle, Joanne and I were in the city, we were lucky enough to skip most queues on the most targeted stores and got good deals from most of them. Well, at least the girls did! I wasn't too lucky on finding the things that I laid my eyes on in my sizes but being able to purchase two items that day at 50% of its original price was just remarkable! The city was filled to the brim by noon and there is no way we can find comfort walking with such narrow spaces around us.
What more can cheer us girls up other than fries dipped in vanilla sundae cones from Maccas?
We're such suckers when it comes to food.
Hope everyone is having the best of their Tuesdays!
x
Photographer : Joanne of Struck By Sunshine
I was wearing:
Kenzo x Fifty59 Cap
Casio Baby-G Shock Watch
Set of Indian Bangles from Market
Balenciaga Classic Hip
Topshop Denim Shirt
Zara Ripped Skinny Jeans
Ninewest Taupe Ankle Boots