Being one of the most popular beaches, it's inevitable that Bondi Beach was one of the places to be ticked off on my list when I was in Sydney for my holiday. Given that it was so hot that day, a good swim at the beach was definitely one of the highest temptations! But seeing how I was trying to squeeze in a few planned activities into a day, getting into the water was definitely out of the question which was just a shame! In saying that however, it definitely did not stop me from getting my swimsuit on for the day!
Hadn't gotten into a one-piece swimwear ever since my highschool days, it felt strange that I'm parading around in a lycra piece. But since it was more of a casual outing, I've styled up my swimsuit without restricting it to only to be worn at the beaches. With a high-waisted denim pants giving ease to movement, I've added a skinny belt with double gold buckles to give it that classy touch. You can already tell how much difference does it make from the pictures below (some with and without the belt), so it's essential to get a variety of belts because adding one to your outfit definitely goes a long way. It's one of the most handy accessory to use as a stylist.
Not wanting to have so much skin showing but keeping it cool at the same time, I've opted for a nice long white tailored vest. With this vest, it helps lengthens my outfit and also give a nice elegant factor to my look as a whole. It's always a good investment on getting a vest because I've worn this with so many different outfits to create various looks, it's a very versatile piece and even more when it's in a neutral tone. You can notice at this stage that my swimsuit is starting to look like just any other bodypiece underneath.
To top it all off, accessorise the outfit with a statement jewellery. In this case, as I want to divert the attention away from the obvious fact that I have a swimsuit rather than a bodysuit on, I've got my pastel colour necklace on to do just that. Large enough to get the focus on my entire neckline but not overlapping the bust area of my swimsuit, perfect. For the icing on the cake, put your favourite pair of sunnies on to conquer the rest of your day!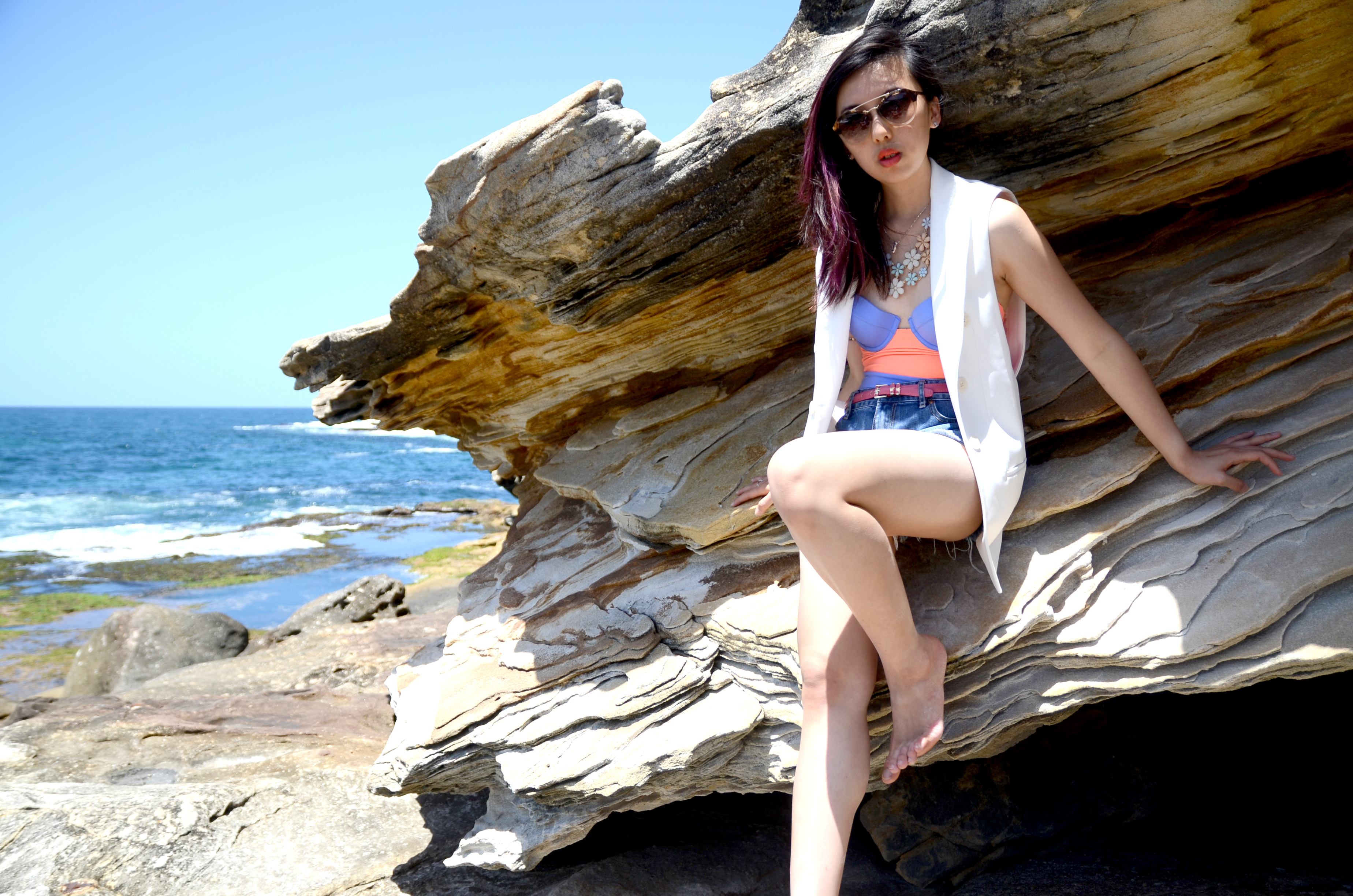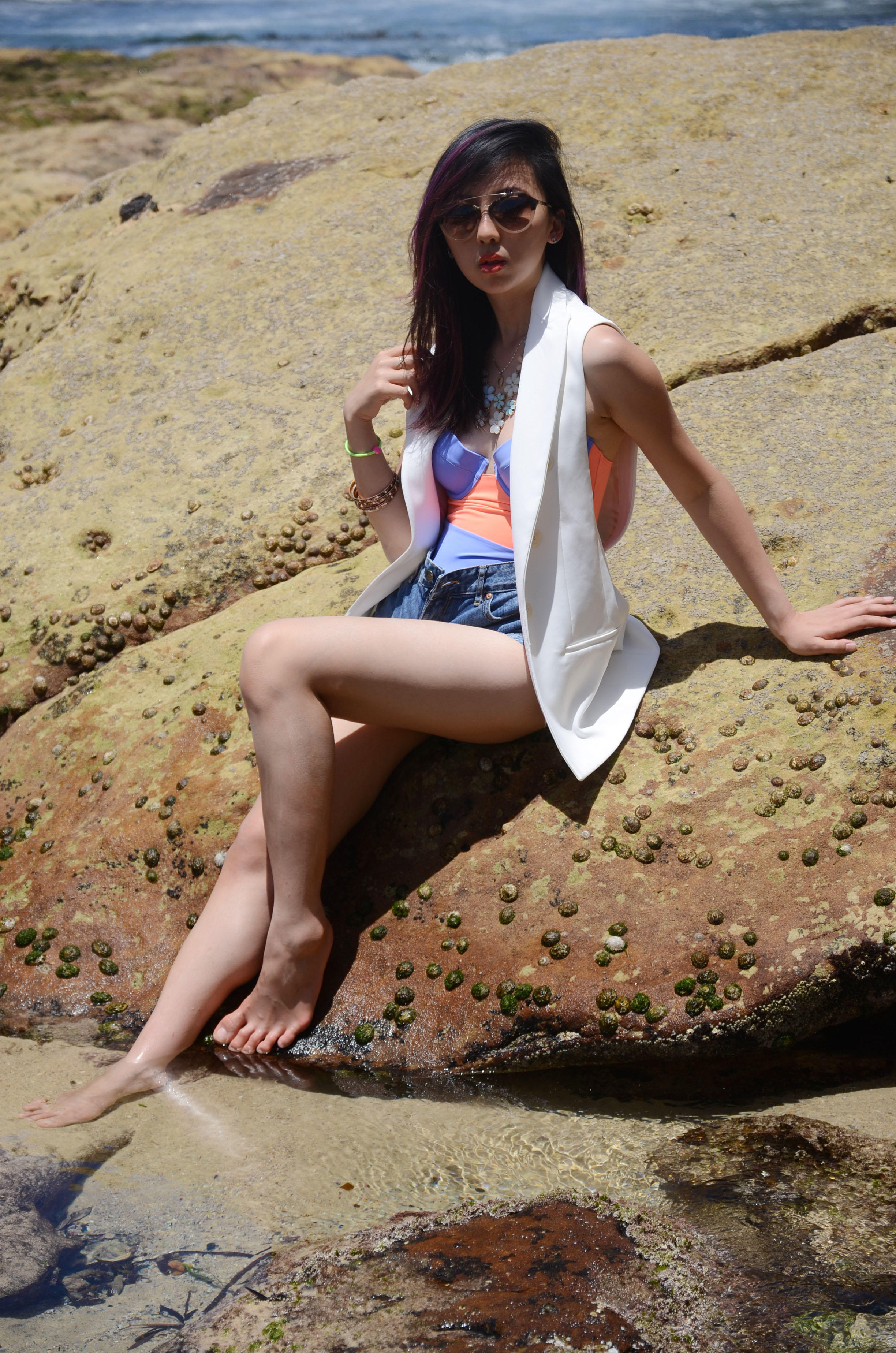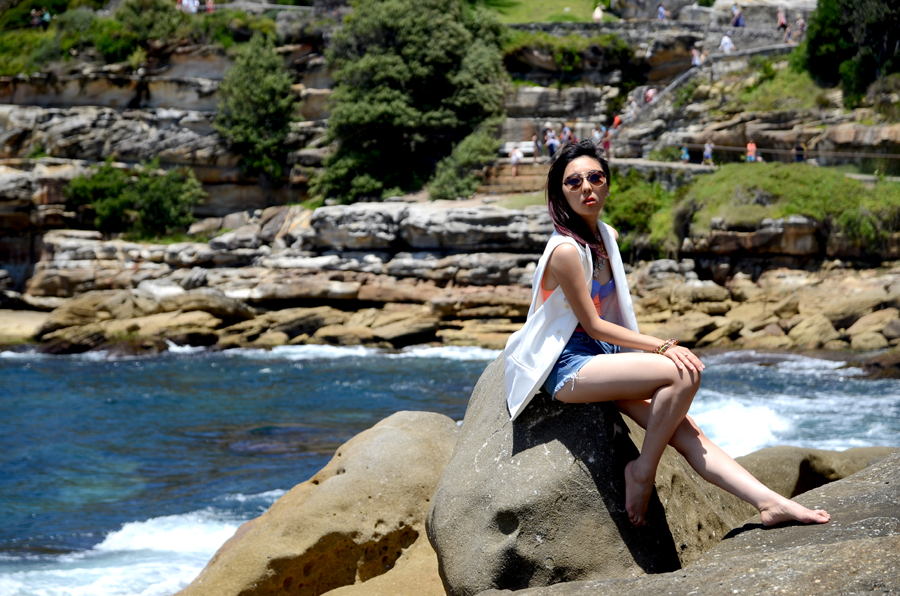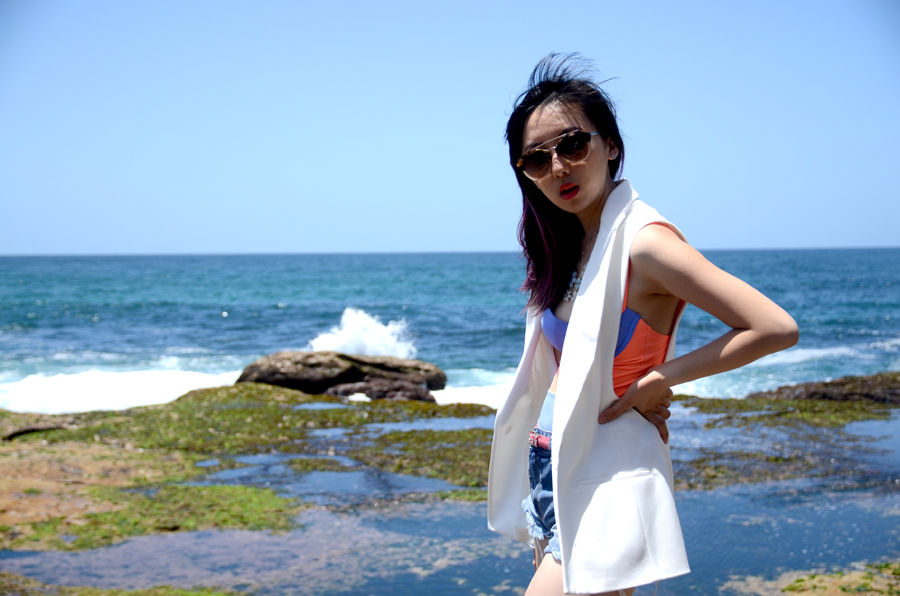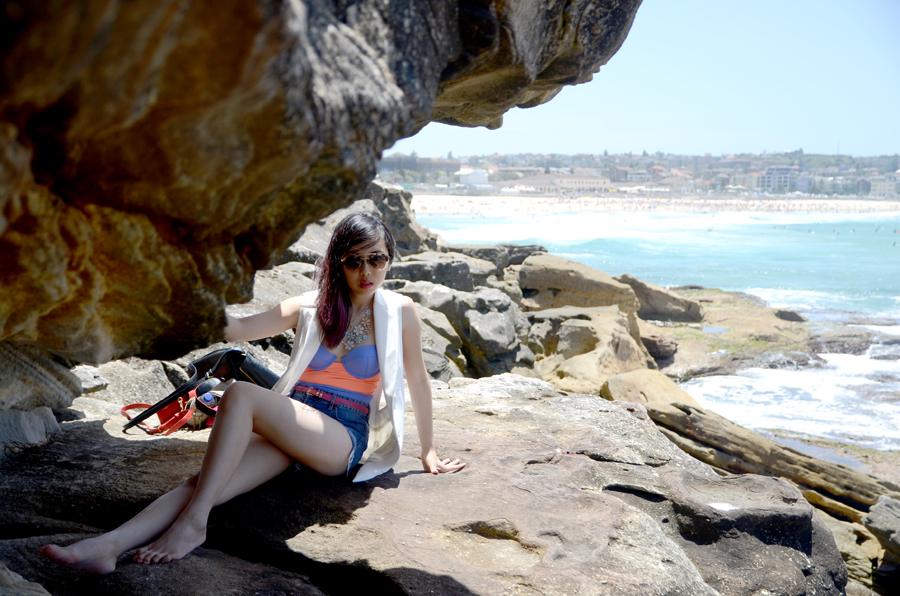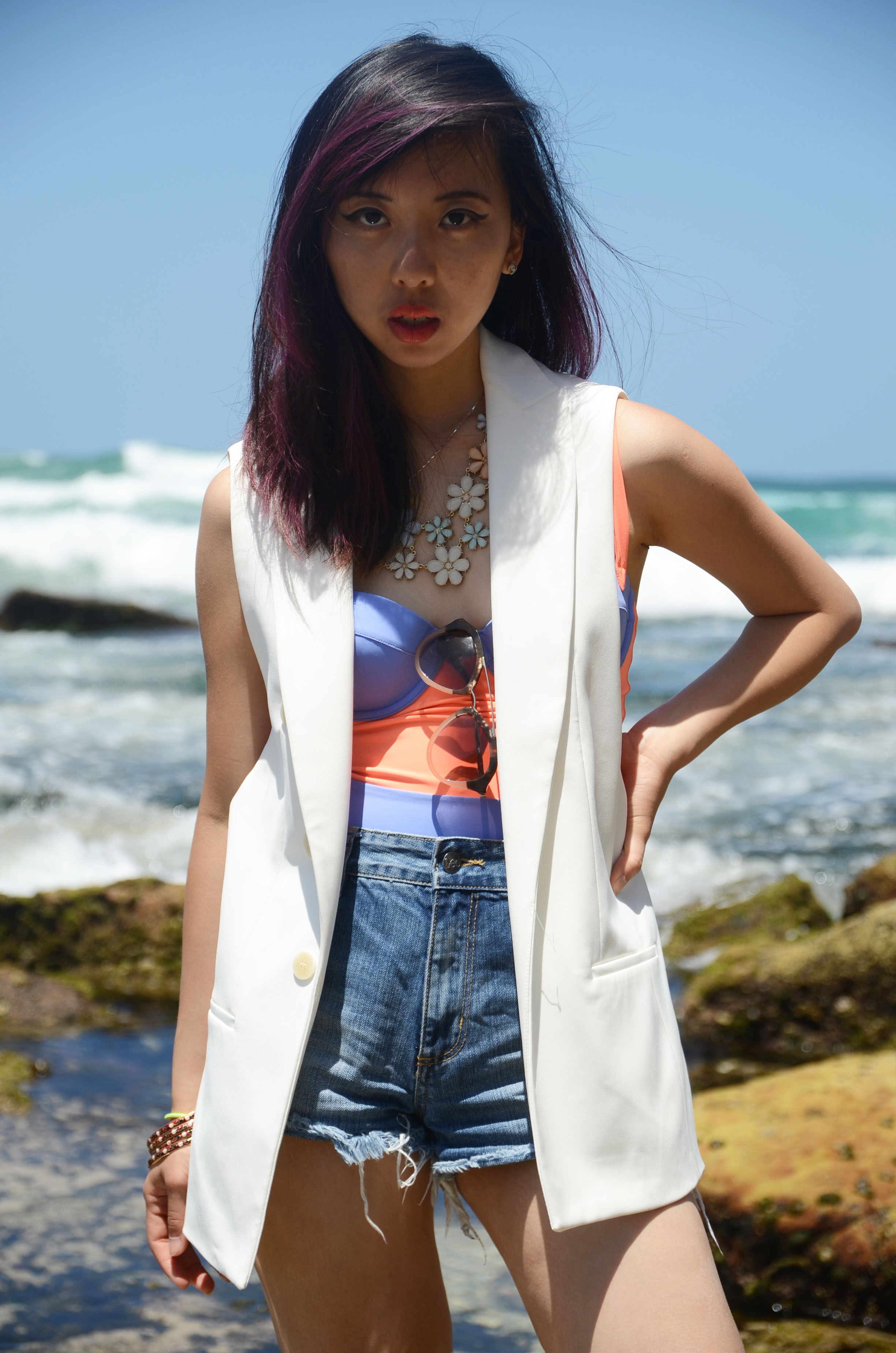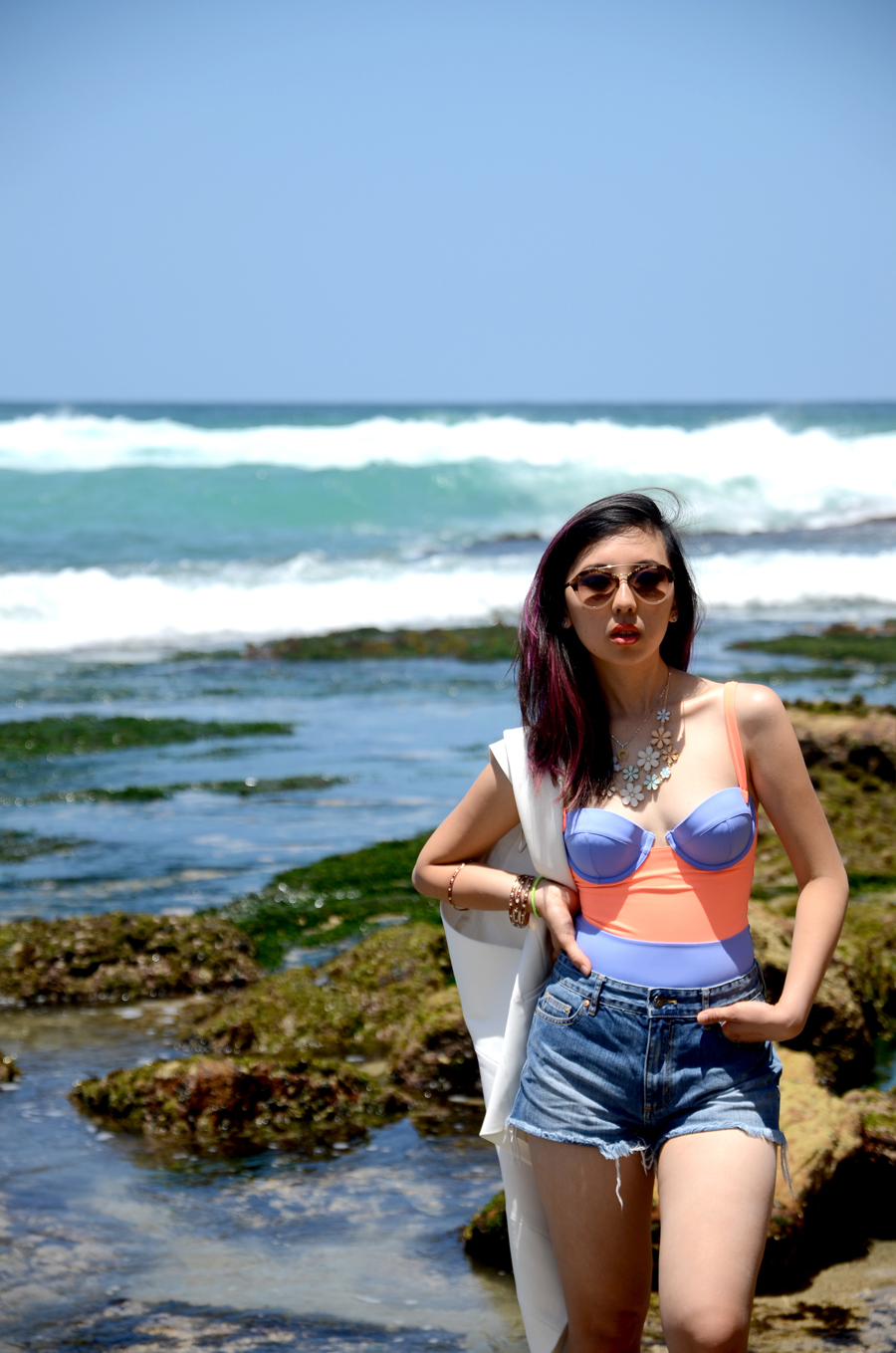 There were too many people on the beach when I was there, but that's probably due to the fact that it was a holiday period then. Can't wait to explore the beach again and get into the waters some time soon!
x
Photographer : Joanne of Struck By Sunshine
I was wearing:
Zara Vest
Topshop Colour Block One Piece Swimsuit
Lee High Waisted Denim Pants