Growing up in the beautiful country, Malaysia, each state in the Peninsular Malaysia presents a different ambience to all visitors alike. I'm thoroughly fortunate to be able to call Kuala Lumpur my home, a few popular states well known for a short getaway could easily be as short as an hour drive or five hours at most if you would like to head up north for a longer holiday. When I was back for a short trip a while ago, my dad brought me to Malacca as our Bangkok trip fell apart due to political protests back then. A place rich with history, traditions from generations before and cultural practices so different from other Malaysian states, I don't think I've ever gotten sick of coming here almost every time that I am back.
Conquered by the Portuguese back in the days, that's mainly one of the reasons on why Malacca appears to be what it is today. Preserving the forts from war times back then, it's one of the popular tourist spots for anyone that comes here for a visit, including a local such as myself. Known for its red buildings and washed out walls, it would be best to keep my outfit on a minimal approach or at most a statement print that complements with the surrounding. Always one to experiment the extreme sides when it comes to styling, I've played it cool with a pair of leopard print pants which I managed to snag during Christmas Sale.
As I've mentioned before, it's always important to note that colours adjacent to each other on the colour wheel complements each other perfectly. The colour wheel is what I'd suggest as referring point if you're unsure on colour matching and wanting to try something different. It's always good to have a visual idea before getting into your outfits, only to realise that it's not how you imagined it to be. With that being said, having these leopard prints in uncommon colour palette of blue and yellow, it makes perfect sense to have them on for a place that's mostly surrounded by vibrant red buildings. That's all primary colours coming out for a party!
To balance the colours out, I've kept the rest of the pieces neutral restricting them to cream and earthy tones. Keeping them simple does not equate to throwing them into the pool of all things boring. Having played with colours, it's time to take advantage of textures and the styles available. I've gone for a double layer chiffon asymmetrical top, which gives a great flow to the outfit and also helps divert a slight amount of attention away from the pants with the help of the side tail. It's something to take note on, that way being attention will be given to your outfit as a whole rather than just a part of it.
Whenever I'm on a holiday, I'd prefer keeping my hands free when it comes to bags particularly. Wandering around in a foreign place, it's easier for me to leave a belonging behind when I have my mind focused on the surrounding and taking delight in new experiences. That's also one of the reasons why you'll see me toting various styles of backpack most of the time because they're just so convenient! Not forgetting, any pair of your favourite ankle boots make the best option for travelling as you can walk more than a thousand miles in them without getting any blisters at the end of the day! For the cherry on top, I simply accessorize myself with a gold necklace and a pair of olive green sunglasses to keep everything light and to a minimal.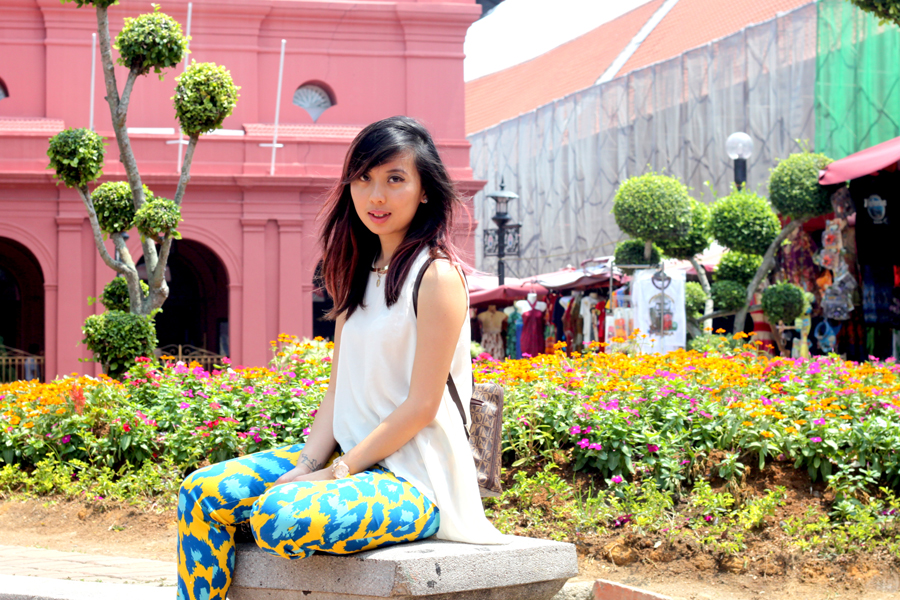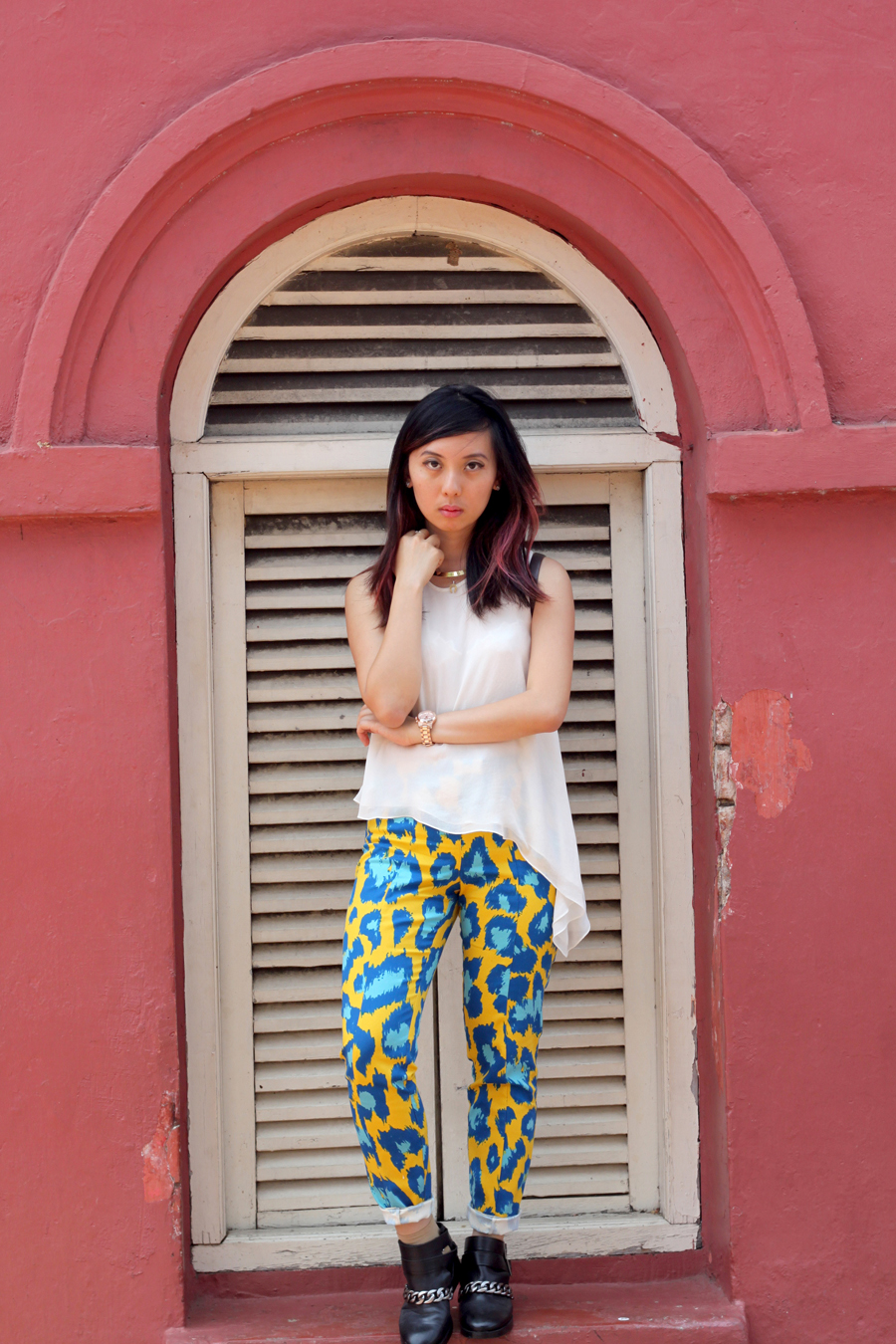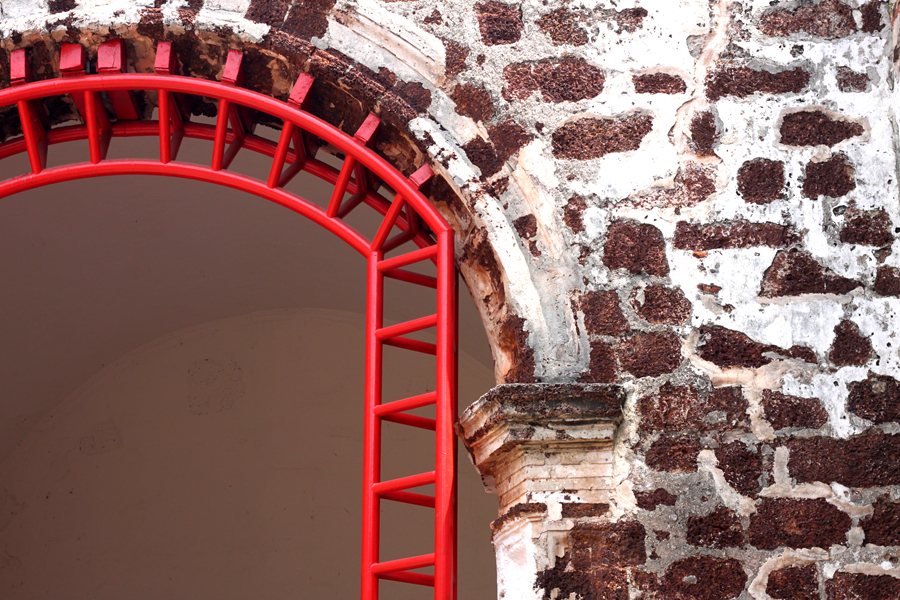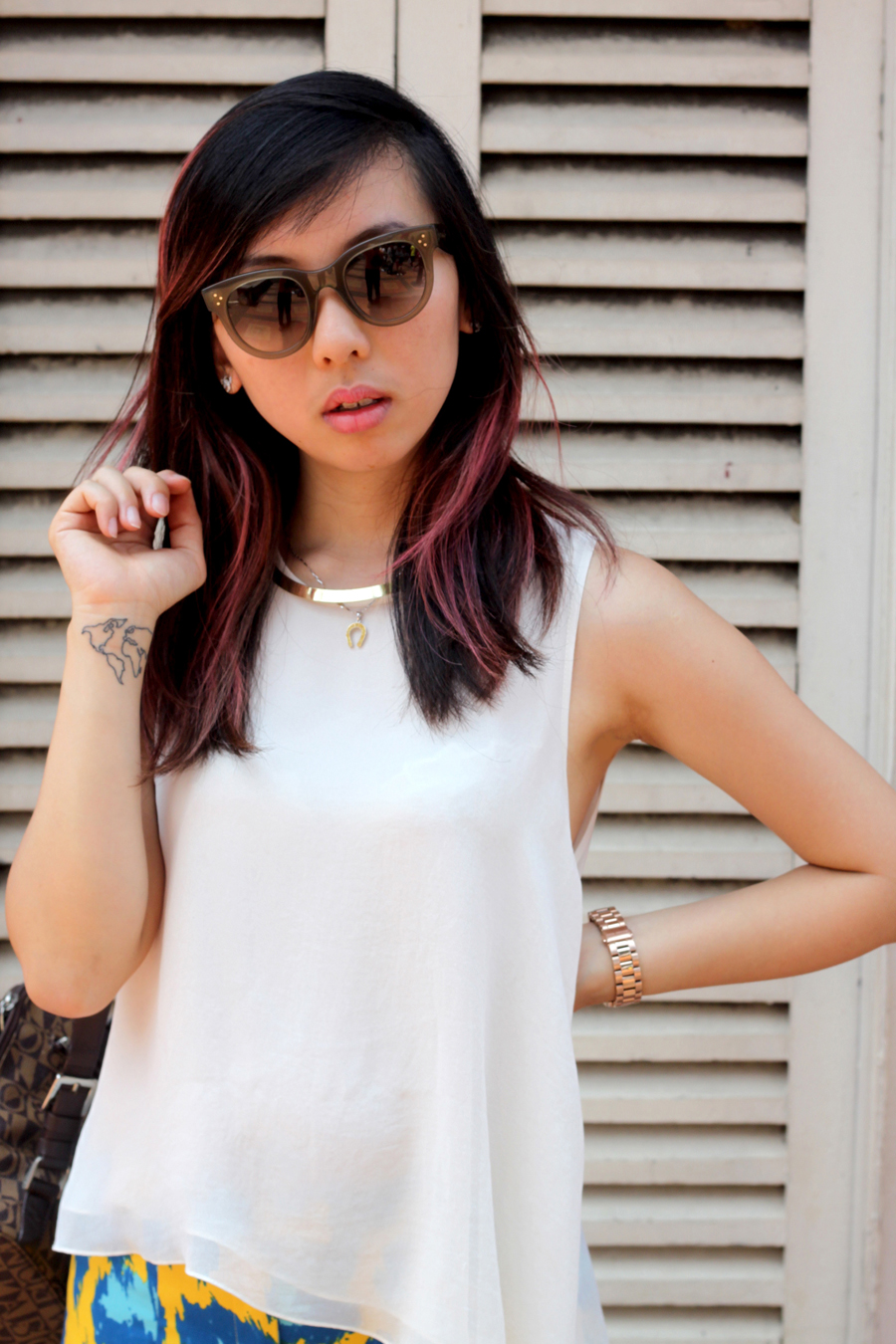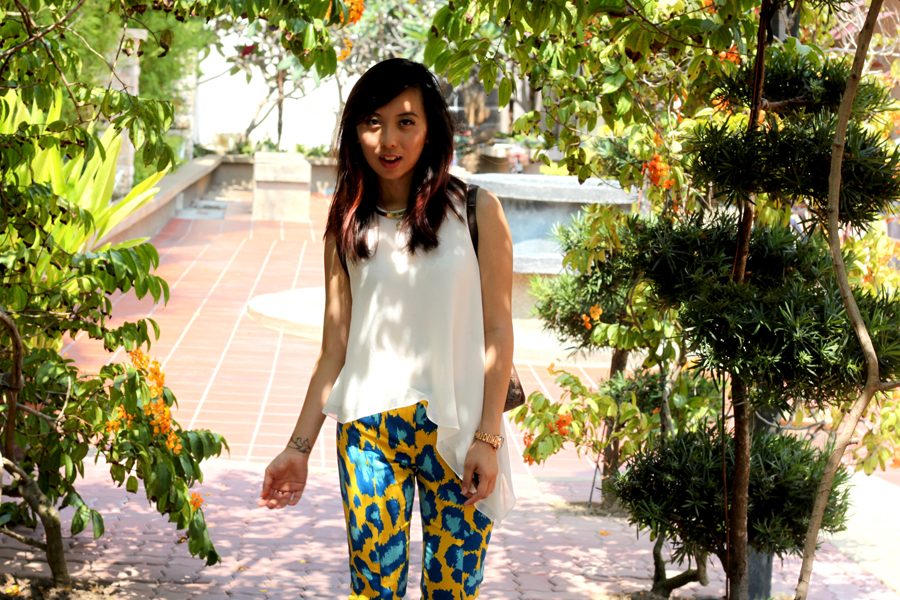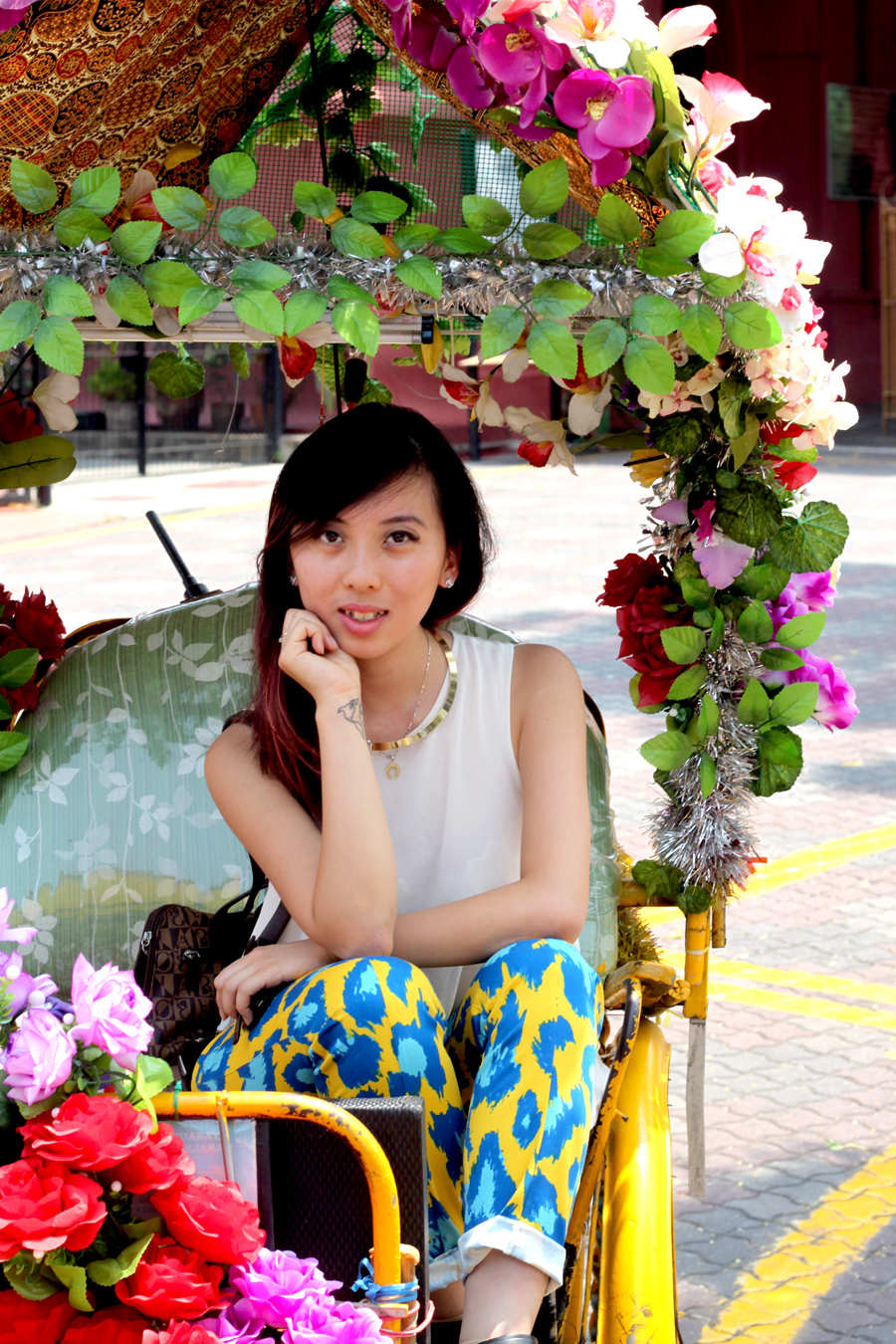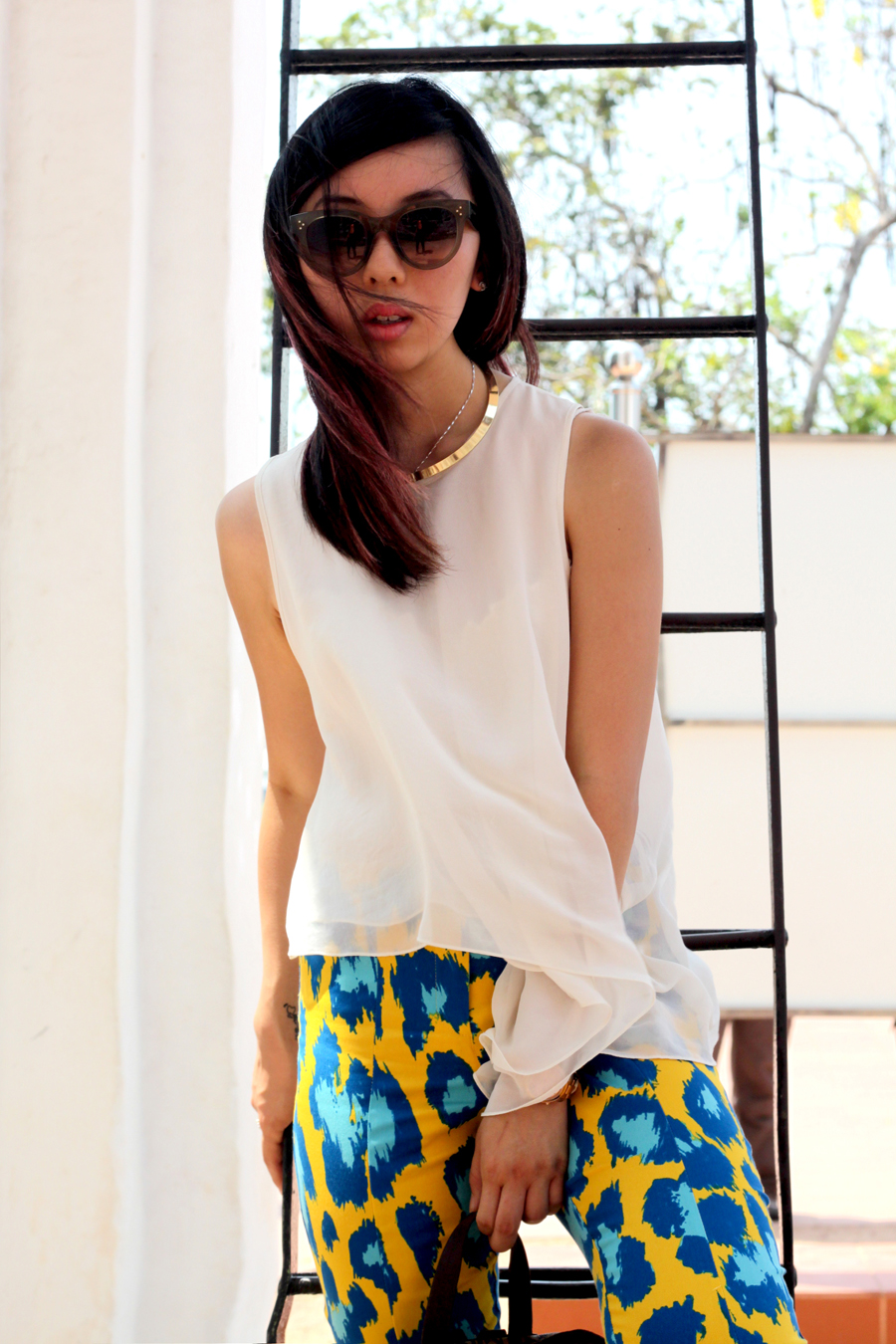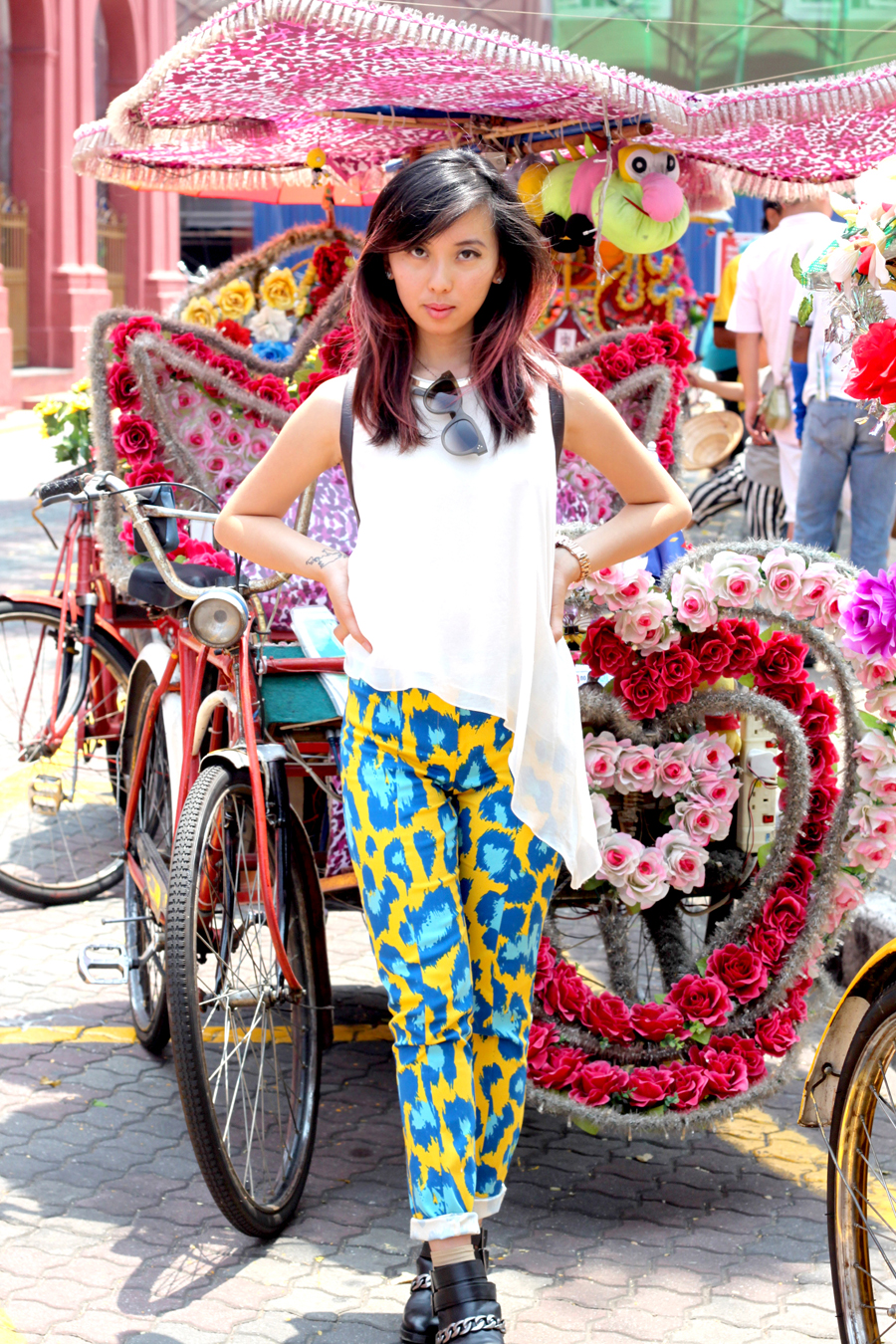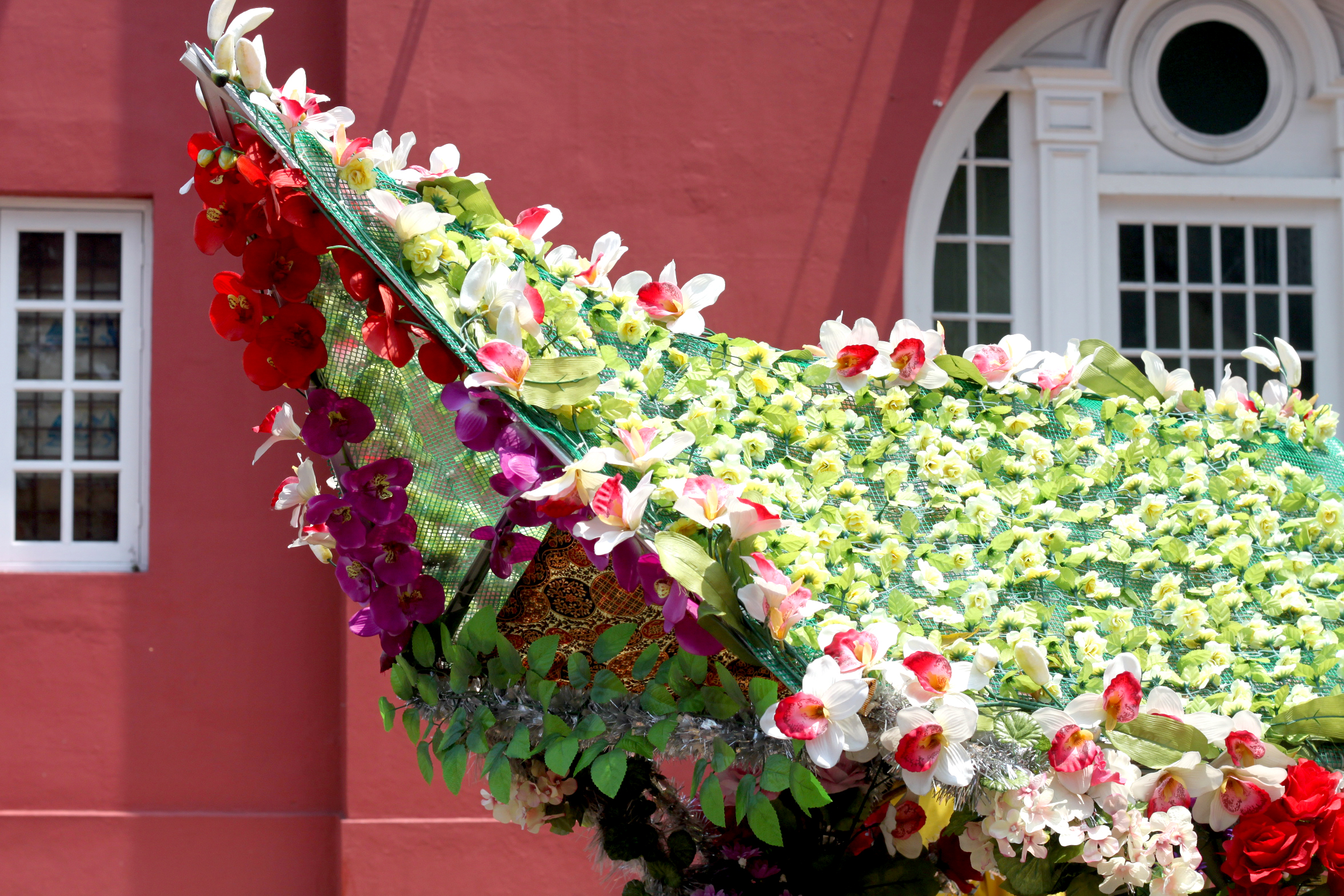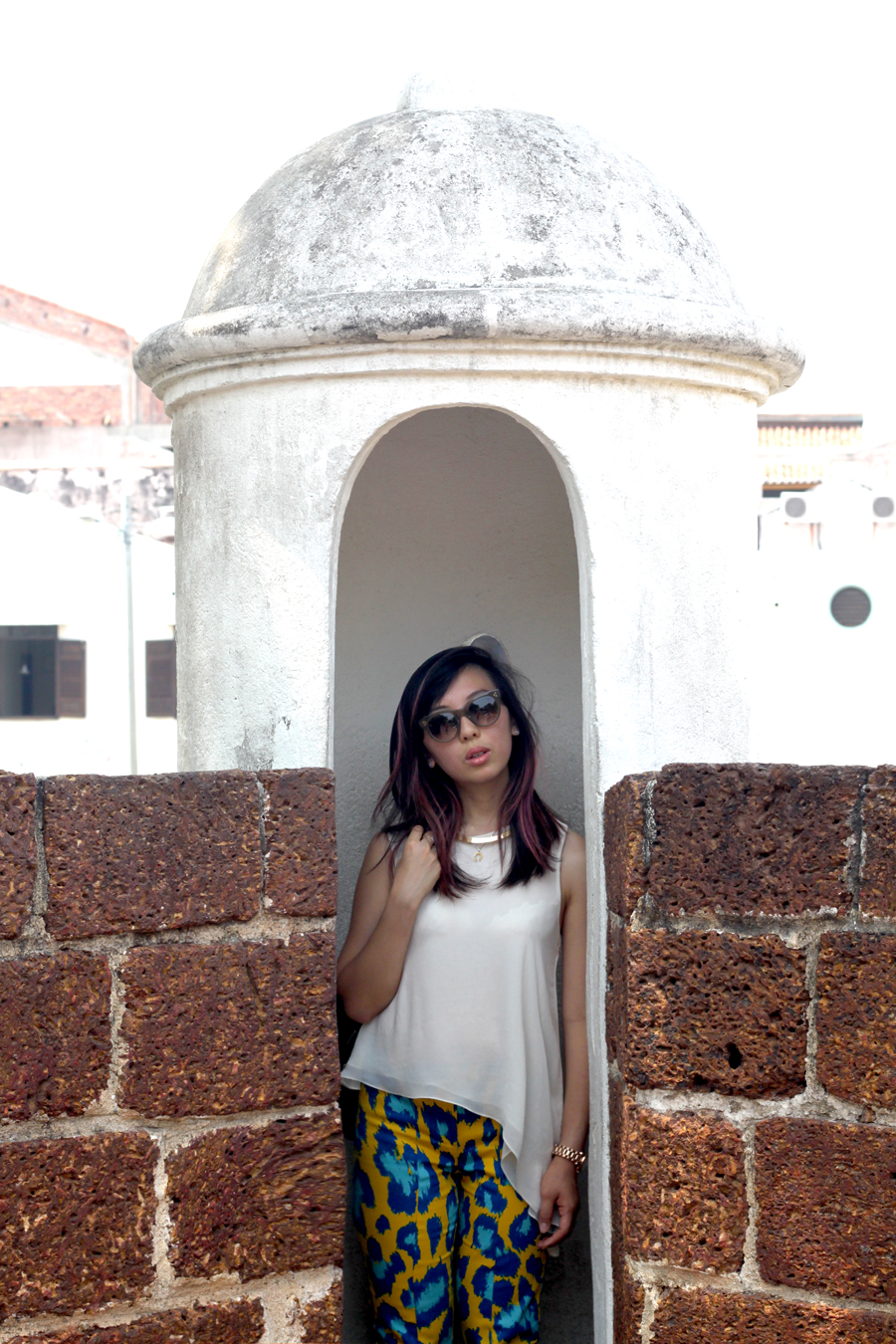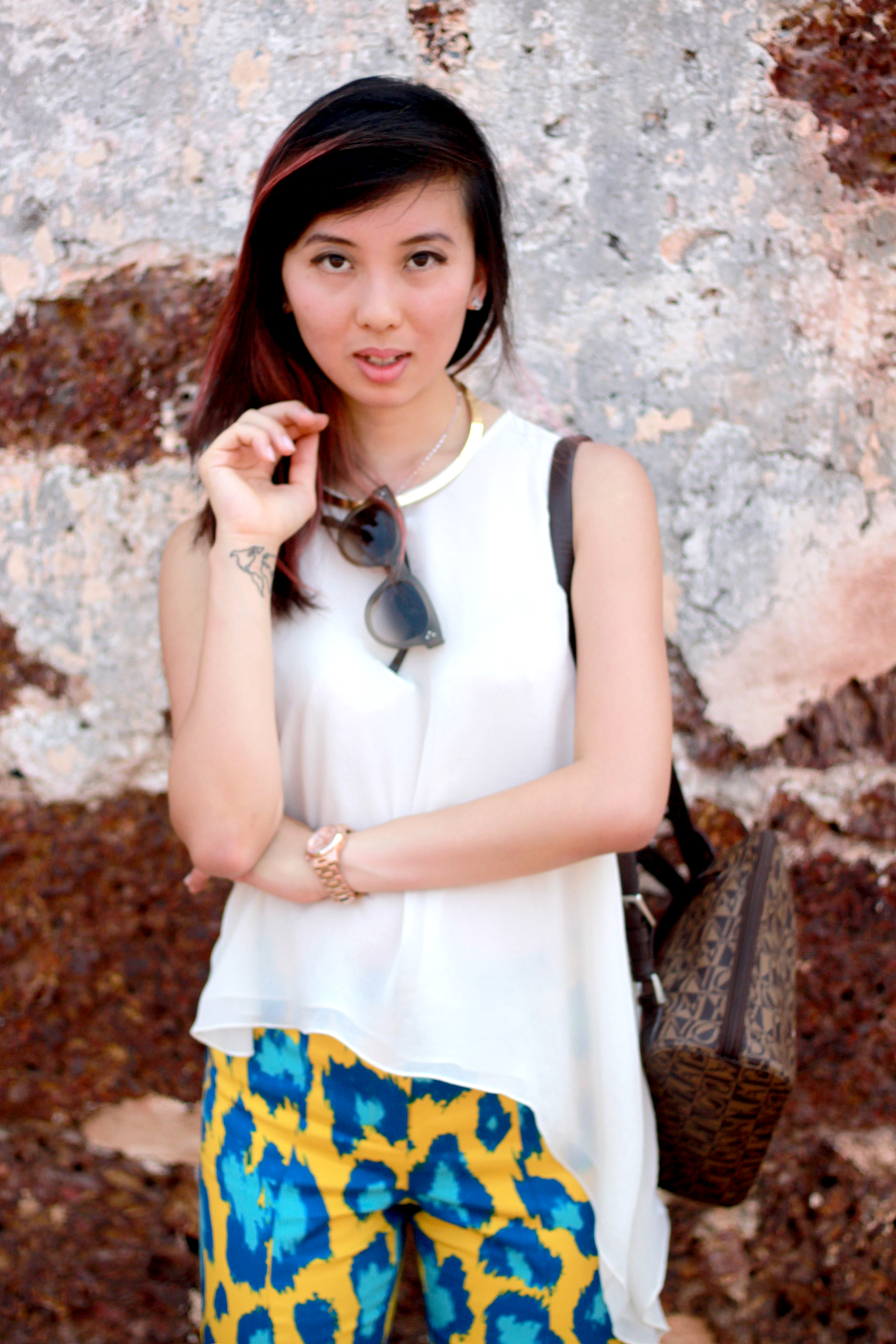 So much places were visited with my dearest parents that day and I can't be more grateful for having them to bring me around to try the ridiculous list of food I've wanted to devour for the rest of my time in Malacca.
On another note, feel free to drop me comments on what you would like to read further or wanting to know? Tips on styling, where to shop, questions on any thing that you can think of! Something random like if I've fell down as a child is more than welcome!
Wishing everyone a good week ahead!
x
Photographer : Dearest Daddy
I was wearing:
Topshop Asymmetrical Chiffon Top and Leopard Printed Cigarette Pants
Zara Chain Boots
Celine Mini Audrey Glasses
Bonia Bag Pack