If there's ever one place in Perth that I'll never get tired of, it'll be Fremantle. From its quirky atmosphere along the 'Cappucino Strip', to beautiful beaches strewn across the coastal drive, Fremantle has captured my heart in every way. The best bit is that, it's a town great to be explored by foot or cycling if you're keen! There's just too many things to see that one day is never enough to fit all of it in. Heck, even when I've been there countless times over the years, I'm constantly amazed by its beauty and there's bound to be a new experience every single visit.
This particular trip, I was blown away when a friend of mine, Xingyi introduced me to the doughnut stall located in the markets. Strangely enough, I've walked past it too many times and I was completely unaware that it even existed. Originally from Kuala Lumpur, I've had my better share of doughnuts compared to the cinnamon doughnuts that seems to be cafeteria's gem during my uni days here. In saying that, that would also be the same for Krispy Kreme as I prefer cinnamon sugar over glazed doughnuts any time of the day! If you're ever so keen on getting a bite on that piping hot doughnut and getting your face all dirty with cinammon and sugar, Levi's Doughnuts is your stall.
We wandered around Fremantle with nowhere in mind. Stumbling upon a quiet little hut overlooking the Indian Ocean makes just the perfect spot for a break away from the hustle and bustle of the town.
Being far away from the main Perth city, heading down to Fremantle almost makes it feel like a road trip every single time. There's just something in this town that makes you want to slow your pace down and take a breather from your hectic life (not much in mine tbh). That explains my always-casual outfit whenever I'm all up for a Fremantle trip. Opting for the favourite combination of stripe top and blue jeans, and adding onto it a personal twist with an anklet that I've bought from one of the market stalls adds the hippy vibe into my entire outfit. As the fitting of my top appears to be slightly cropped and boxy, the best way to balance your silhouette is to pair it with a tight and high-waisted jeans. That'll definitely give an illusion to your length and longer legs. Another trick that I always go with if my pair of jeans isn't as tight as I would like them to be at the ankles, is that I would usually roll up my jeans by folding it in once or twice depending on how cuffed you would prefer them to be at. It's all about versatility and the length that you're comfortable with so there's not ground rules for this.
With the combination of the pieces' varied lengths, it's best to throw on a belt to accessorize as there isn't much layering going on, so bringing the focus on your central area of the outfit to your belt does put your outfit together a lot more. To finish it all off, I've got my espadrilles on to hop off into the sunset with my dreamy coconut drink on one hand in mind.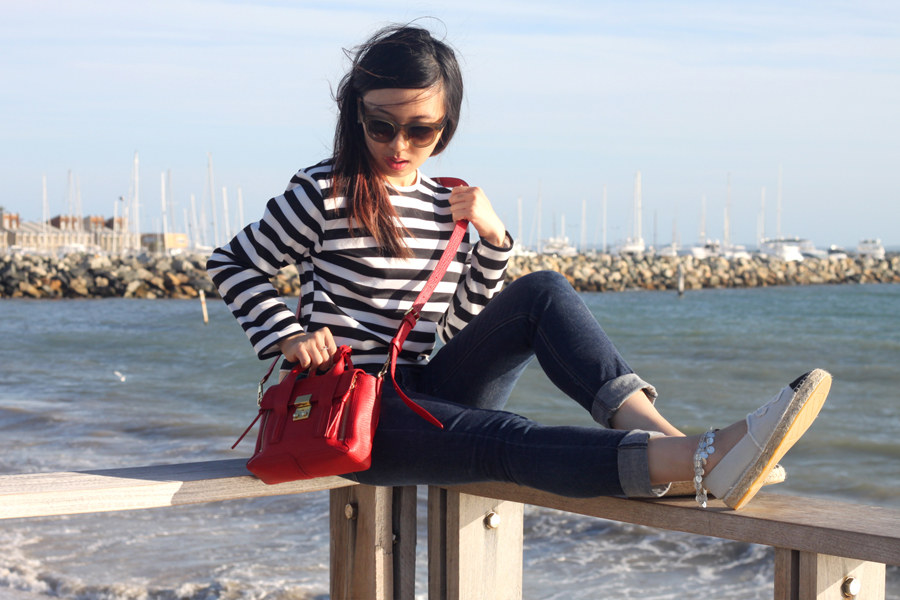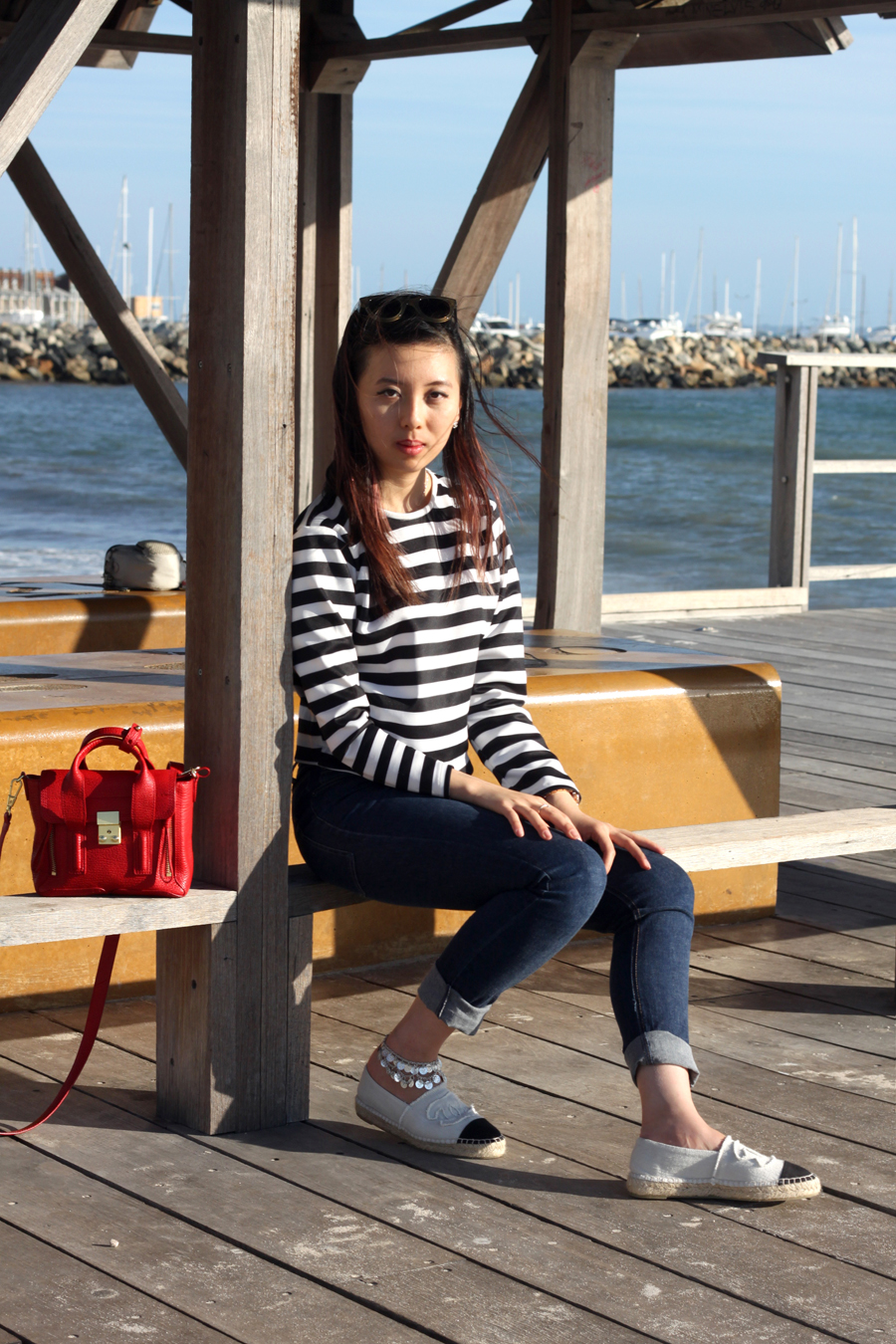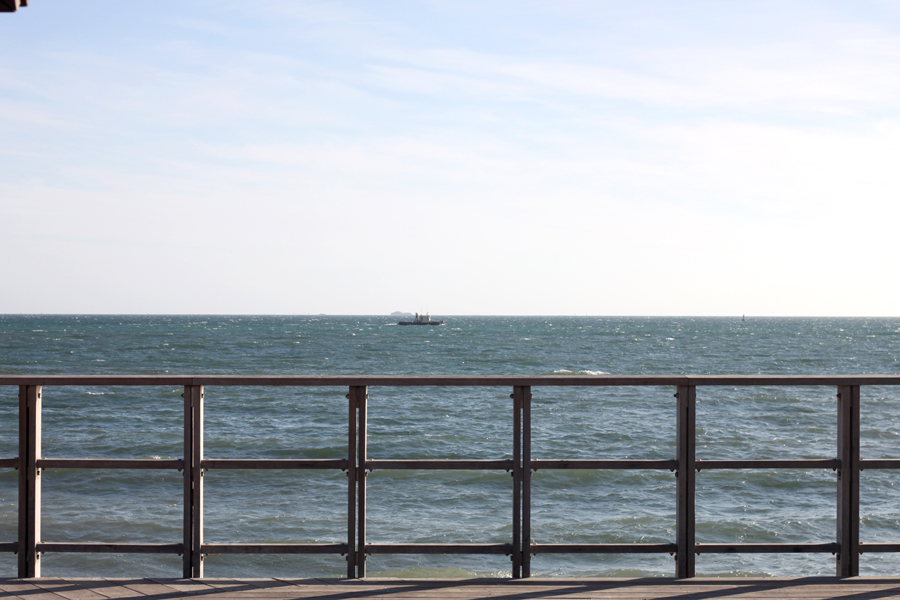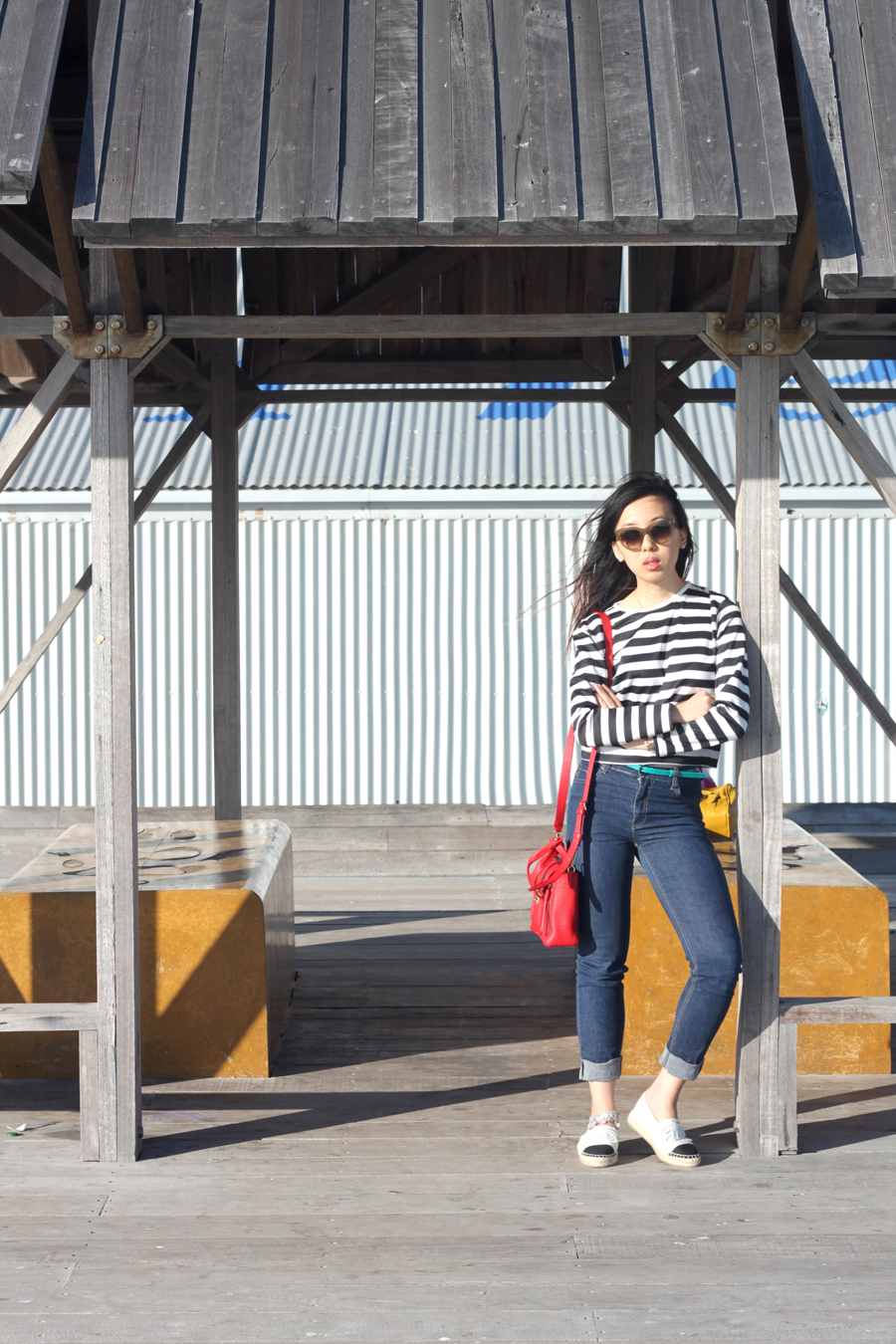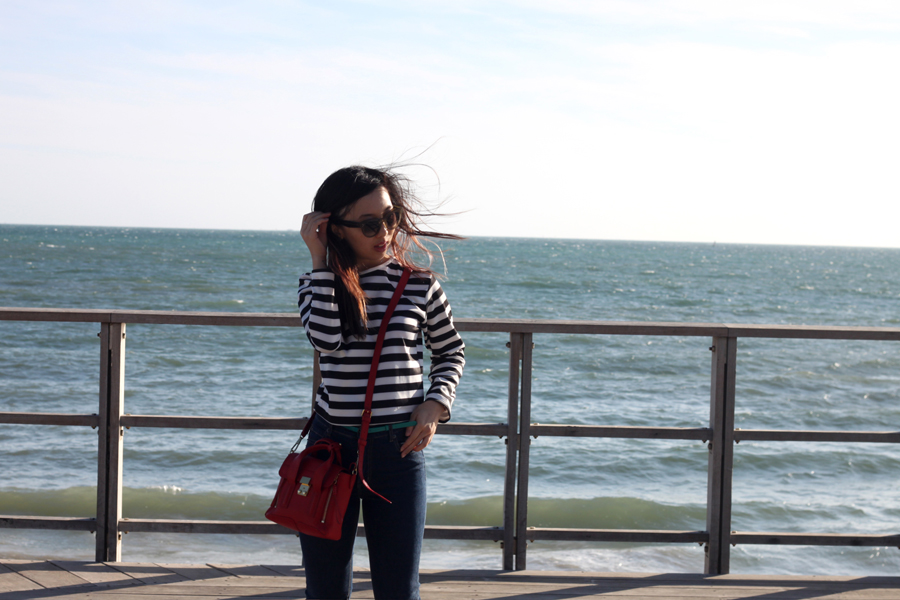 Hope you like this outfit and I'm just so excited as I'm writing this post up as my parents will be coming to Perth for a visit!! I've been longing for a family time and the next ten days are going to be blissful!
Wishing everyone a good week ahead!
x
Photos taken by : Xingyi Soo
I was wearing:
Zara Nautical Print Boxy Long Sleeve Top
Cheap Monday Skinny Jeans
3.1 Phillip Lim Mini Pashli
Chanel Espadrilles